You are here
New Cardiac Care Unit in place in Mayo University Hospital Routine Cardiology Services have resumed at the hospital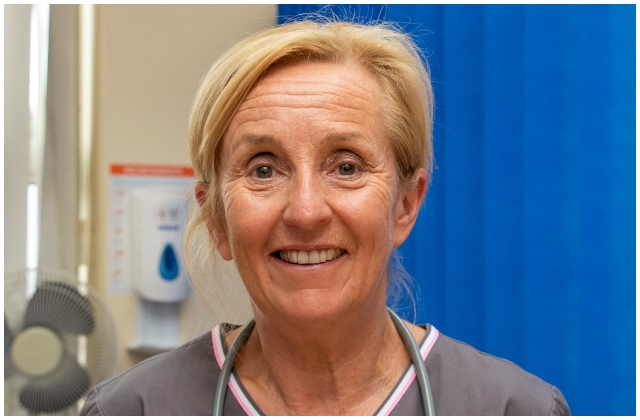 Cardiology outpatient appointments and clinics are now gradually resuming at Mayo University Hospital (MUH). In addition, a new dedicated Cardiac Care Unit (CCU) has opened in the hospital. The unit, which was developed as part of the hospitals COVID-19 planning, has resulted in an increase of 12 monitored specialist cardiology beds. Four of the beds are in the CCU and with newly installed telemetry technology, a further 8 beds are based in other medical wards in the hospital where patients will have their cardiac monitoring carried out remotely. These developments have increased the level of monitored bed capacity in MUH by 150%.
Commenting, Consultant in Cardiovascular Medicine, Dr Fionnuala Lavin said, "This dedicated cardiac care space and additional capacity to monitor cardiac patients allows us to provide the highest level of care to our cardiac patients. To date 90 patients have been admitted to this new unit and have received this specialised critical care service and have had access to prompt cardiac investigative tests and treatment. This service is run in partnership with University Hospital Galway.
"We are also now resuming many of our clinics that had been paused over the last number of months; these include pacemaker checks and other cardiac clinics. We want to assure our patients that we will be prioritising their safety and that of our staff as we continue to gradually increase the number of clinics and patients treated in the hospital. I would again urge anyone with symptoms of serious illness such as heart attack or stroke to ensure that they do not ignore these symptoms and that they present to the Emergency Department promptly."
Catherine Donohoe, Hospital Manager Mayo University Hospital added, "The establishment of this dedicated cardiac care unit is a really important development for critical care at Mayo University Hospital. It provides us with additional specialist ring-fenced cardiac beds for our patients. I would like to thank the team for all of the work they have done over the last number of months to facilitate this unit. Many of our staff up-skilled, some moved from other hospital departments and we have recruited other specialist staff to support and develop this unit.
"It will result in higher quality patient-centred care and standardised management for all cardiac patients presenting to MUH. I am really proud of the efforts staff have made from all departments in making this a success, including but not limited to, medical, nursing, clinical engineering and our maintenance staff. This unit will be supported by telemetry in the next number of weeks. This means that we will be able to take cardiac patients back from University Hospital Galway in a more timely and safe way. It will also mean that patients won't have to be transferred to the Intensive Care Unit for complex infusions and this will maintain ICU capacity for critically ill patients. We will also be recruiting more coronary care nurses to support this service."
Clinical Nurse Manager 2, Fiona Moran said, "Our staff were key to enabling this service and we really appreciate their commitment to ensuring it was put in place as quickly as possible. Their care and expertise is evident in the positive feedback we have already received from our patients and relatives alike. We look forward to the ongoing progression of this unit and the provision of this specialised service which is now available for our cardiac patients and teams in MUH."
Video link: Dr Fionnuala Lavin, Consultant in Cardiovascular Medicine at Mayo University Hospital Mayo University Hospital on the resumption of services and the importance of attending hospital early if you have symptoms of a heart attack:
https://www.youtube.com/watch?v=FIXv0hVJ_BY
https://twitter.com/saoltagroup/status/1275401568888782849
Photo Caption:
Dr Fionnuala Lavin, Consultant in Cardiovascular Medicine at Mayo University Hospital.
The article above is specific to the following Saolta hospitals::
Mayo University Hospital (MUH)