You are here
Neighbours Walking Together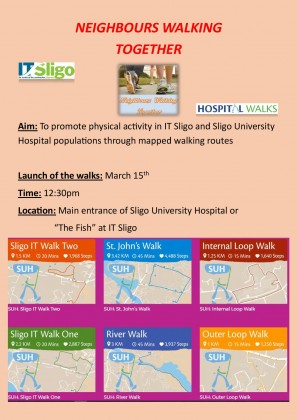 Peter Sweeney, Emma O' Toole, Ciara Glynn and Simon Fahy are final year students from Public Health and Health Promotion in IT Sligo. They have been working in partnership with Sligo University Hospital (SUH) in creating a supportive environment for staff, patients, visitors of SUH and the IT Sligo population to carry out physical activity. This has involved mapping and developing appropriate walking routes around SUH/IT Sligo area.
The aim of our initiative is to create a supportive environment to help increase physical activity levels among staff, patients, visitors of SUH & the IT Sligo population. This in turn will help to improve their health and wellbeing.
Mapped walking routes around Sligo University Hospital and IT Sligo have been developed and published online on the hospital walks website http://www.hospitalwalks.com/
We are launching the walking routes on Wednesday the 15th of March from 12:30pm. The walk will begin from the main doors of Sligo University Hospital and will make its way down to the Fish Statue at IT Sligo. From there we will walk along the "Sligo IT Walk One" (which can be seen via the link) which goes along the Sli na Slainte walking route around the IT Sligo campus. A special guest will be there on the day to help launch the walk.
We are hopeful that you will be able to participate in the walk on the day. We would also be very grateful if you could encourage other members of staff, students and friends to come along.
For more information, contact:
Peter: S00146915@mail.itsligo.ie
Ciara: s00145962@mail.itsligo.ie
Emma: s00144953@mail.itsligo.ie
Simon: s00144578@mail.itsligo.ie
The article above is specific to the following Saolta hospitals::
Sligo University Hospital (SUH)