You are here
National Frailty Education Programme Launched at UHG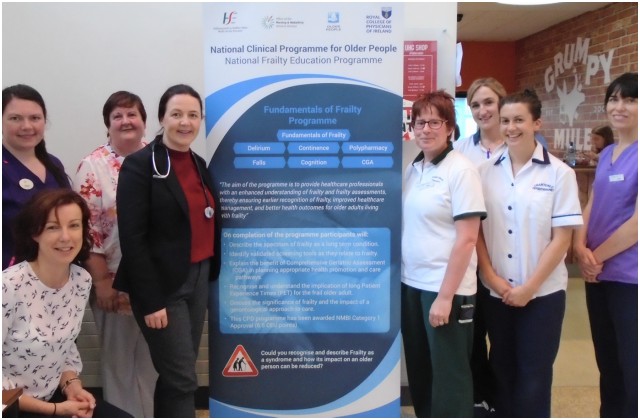 Population ageing is occurring rapidly. In Ireland, the population 65 years and over is projected to increase by between 58 and 63 per cent from 2015 to 2030 (ESRI 2017). A national education programme "The Fundamentals of Frailty" was developed to provide healthcare professionals with an understanding of frailty coupled with the knowledge and skills required to provide effective care to older people living with frailty as a long-term condition, wherever they access health services. The programme has evolved out of collaborative working between the Older Persons, Acute Medicine and Emergency Medicine Clinical Programmes in Ireland (Specialist Geriatric Services Model of Care, 2012).
As older people have different healthcare requirements, the Irish healthcare system is now beginning to adapt to meet the demands associated with these demographic changes. Empowering health care professionals with up-to-date knowledge and skills will ensure that when an older person needs health or social care, the care they receive will be better planned, better coordinated, easier to access and truly person centered (integrated care).
The 'National Frailty Education Programme' philosophy is based on the belief that education increases knowledge and enhances healthcare professionals' skills in clinical areas. It complements the Guidance on Comprehensive Geriatric Assessment (CGA) produced by the National Clinical Programme in 2016 (NCPOP Guidance on CGA). Our national frailty education programme promotes and encourages evidence based practice through ensuring knowledge is current. The philosophy underpinning this education programme is to promote excellence, encourage innovation and creativity in the management of the older person living with frailty.
Edel Mannion, cANP (Candidate Advanced Nurse Practitioner) for Older Persons, University Hospital Galway explains, "This programme is very beneficial to all healthcare professionals as the majority of us work with older people regardless of our speciality. By increasing the understanding of frailty, we can improve the detection, prevention, management and therefore outcomes for older people.
"Galway University Hospital is one of the pilot sites offering the National Education Programme. The programme was officially launched in University Hospital Galway on 13 June with the aim of promoting the importance of the programme among staff. The education programme is run in Galway University Hospitals one day a month and facilitators include a Consultant Geriatrician, Physiotherapist, Clinical Nurse Specialists, Occupational Therapist and Social Workers."
Photo caption:
Pictured at the launch are: Edel Shiels, cANP For Older Persons, GUH; Siobhan McHugh, CNM1, Arus Mhuire, CNU, Tuam; Dr Stephanie Robinson, Consultant Geriatrician GUH; Orla Sheil, Senior Occupational Therapist, Frailty Service GUH: Catherine Gavin, Senior Physiotherapist, GUH; Janette Maguire, Senior Physiotherapist, GUH and Edel Mannion, cANP for Older Persons, GUH
The article above is specific to the following Saolta hospitals::
University Hospital Galway (UHG)