You are here
Minister for Health Officially Opens Cardiothoracic Ward at University Hospital Galway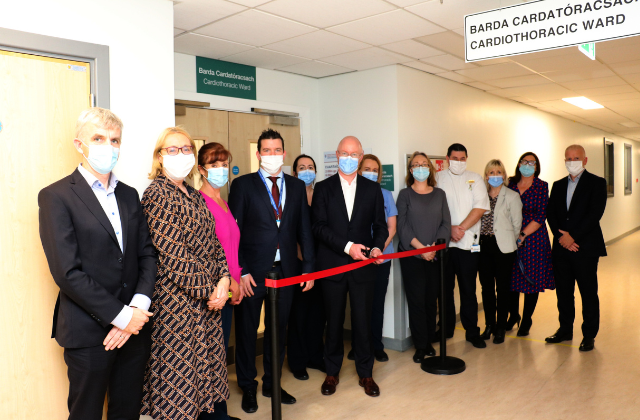 University Hospital Galway welcomed Minister for Health, Stephen Donnelly TD to the hospital today, Friday 21 October, to meet with frontline staff and get an update on recent hospital developments.
During his visit Minister Donnelly also officially opened the Cardiothoracic Ward which is a 13 bed ward for patients who are undergoing cardiothoracic surgery. The ward includes three isolation rooms, three 2-bedded wards, a 4-bedded ward, a pre-assessment room and a waiting lounge. Ten of the beds have been in use since May and a further three beds opened earlier this month.
The cardiothoracic ward cost €4.71m to design, build and equip and includes a state-of-the-art monitoring facility with telemetry and in-room monitoring.
Minister Donnelly said, "The new Cardiothoracic ward opened today embodies the reform being delivered through Sláintecare. This new infrastructure will enhance the permanent capacity of our health service. The ward will augment University Hospital Galway's (UHG) role as a major clinical cardiothoracic service, supporting the many other specialties in UHG and the wider Saolta group of hospitals. This will benefit patients in the region and ensure the delivery of safe, timely access to high-quality care".
Mr Alan Soo, Consultant Cardiothoracic Surgeon for the Saolta University Health Care Group said, "The Cardiothoracic Unit in UHG is the sole tertiary referral centre for both cardiac and thoracic surgery in the West of Ireland. In addition, the thoracic service is one of only four designated NCCP lung cancer surgery centres in the country. Today was an opportunity to showcase the incredible work being carried out here in Galway as a designated training centre for junior surgeons, nurses and allied health professionals. It is important that we have state of art facilities to provide the best health outcomes for our patients and that as a teaching hospital we are able to foster a culture of learning, research and innovation to further improve the quality of care for our patients."
Ms Chris Kane, Hospital Manager said, "We thank Minister Donnelly for taking the time to visit UHG today and to view recent developments. The hospital, which was constructed in the 1950s, is the only Model 4 hospital in the Saolta Group and provides secondary care to Galway City, county and surrounds (346,000 population catchment) and tertiary care for the 800,000+ population across the region. Developments such as the Cardiothoracic Ward are important to bring the hospital infrastructure to a standard that meets National Clinical Care Standards and to address service capacity and risk issues and we hope that there will be further capital developments to improve bed capacity and improve our infrastructure."
Photo Caption
From left: Prof Pat Nash, Chief Clinical Director, Saolta Hospital Group; Ann Cosgrove, Chief Operations Officer, Saolta Hospital Group; Marie Cloonan, Clinical Nurse Manager (CNM) 3 Cardiothoracic/Cardiology; Mr Ronan Kelly, Consultant Cardiothoracic Surgeon; Michelle Wren, CNM 2; Minister Donnelly; Niamh McDermott, CNM 1; Edel Kelly, Assistant Director of Nursing; David Folan, Staff Nurse; Chris Kane, General Manager, Galway University Hospitals; Marie Burns, Director of Nursing, Galway University Hospitals; and Tony Canavan, CEO, Saolta Hospital Group.
The article above is specific to the following Saolta hospitals::
University Hospital Galway (UHG)