You are here
Michael Lyster launches 'End PJ Paralysis' initiative at University Hospital Galway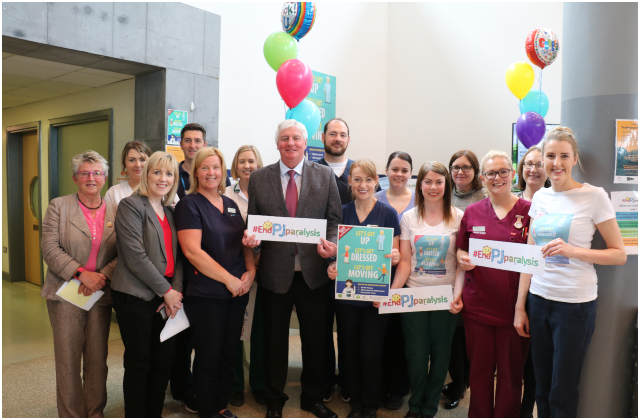 University Hospital Galway was delighted to welcome Michael Lyster to officially launch the 'End PJ Paralysis' initiative at the hospital today.
The initiative is part of an international campaign which encourages patients to stay mobile and get back into their daily routine, maintain independence and return home as soon as possible.
Speaking at the launch, Michael Lyster said, "I was surprised to learn how beneficial it is to get up and dressed while in hospital myself and the huge positive impact it can have on recovery, reducing the time spent in hospital and making it easier to adjust to life at home afterwards."
UHG's General Manager, Ms Chris Kane said, "We know that being mobile helps patients recover more quickly from illness and injury and we are encouraging all patients, where possible, to get out of bed during the day as they would at home. The 'End PJ Paralysis' initiative has been running on a number of wards since January and will be rolled out across the whole hospital. Based on the success to date, we hope to continue to improve the patients' experience in hospital and reduce the length of their stay."
Miriam Flatley, Senior Physiotherapist who has been involved in the roll out of the initiative said, "The dangers of patients remaining in bed for a prolonged period of time are well-documented. We know from research that one week of bed rest can result in 10% muscle loss, especially in older patients. This can be the difference between a patient being able to climb the stairs in their own home or not.
"All staff are encouraging patients to get up and dressed each day and to take regular walks if possible. Patients are also being requested to pack day clothes and shoes, as well as pyjamas, dressing gowns and slippers for nightwear. Patients with apps on their phones can track their physical activity levels throughout the day or if they are interested, we have pedometers they can use."
Marie Corry, Senior Occupational Therapist said, "Traditionally people associate wearing pyjamas with being sick. However, when people wear their own clothes they report feeling more like themselves and being able to do more normal day-to-day activities. In addition, we know that patients are less likely to have falls when wearing sturdy, well-fitting shoes, instead of slippers.  As, I always say, slippers are for slipping!"
There have also been some unexpected benefits on the wards, according to Debbie Belton, Clinical Nurse Manager who said, "Nurses report that patients are up and about earlier, leading to more time for direct patient care on the wards."
Photo Caption:
Staff at University Hospital Galway with Michael Lyster who launched the 'End PJ Paralysis' initiative at the hospital today
The article above is specific to the following Saolta hospitals::
University Hospital Galway (UHG)