You are here
Message from the HSE's Crisis Management Team in Community Healthcare Area 1 & Acute Hospitals - Donegal, Cavan, Monaghan, Sligo and Leitrim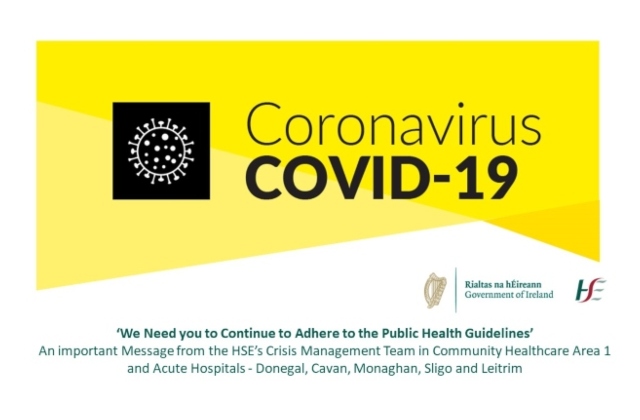 We Need you to Continue to Adhere to the Public Health Guidelines - an important Message from the HSE's Crisis Management Team in Community Healthcare Area 1 and Acute Hospitals - Donegal, Cavan, Monaghan, Sligo and Leitrim
 
The Area Crisis Management Team (ACMT) co-ordinating all HSE Services across the CHO 1 area in the fight to identify, contain and stop the spread of Covid 19 has asked the public to continue to adhere to the public health guidelines over the May Bank Holiday weekend.
 
The ACMT which includes participation of all Hospitals, Community Services, Public Health Medicine, Infection Prevention and Control, National Ambulance Services, Emergency Management, Environmental Health, Procurement, Equipment and Supplies, Estates and ICT.  
 
The Chair of the ACMT, John Hayes, Chief Officer, CHO 1 acknowledged the incredible support from local communities whose efforts are really making a difference in stopping the spread of Coronavirus.  He said, "It is vital that everyone keeps up those efforts. I know it's hard, especially in terms of being apart from families and friends but it is helping to protect and keep our communities - especially vulnerable people and healthcare workers - safe. I have made a particular appeal to children and young people that we in the healthcare community really need them to keep that effort going for another while."
HSE staff will be working right across all key services this Bank Holiday weekend, Mr Hayes thanked HSE staff, staff working in nursing homes, community and voluntary agencies, essential services and shops and all of the key emergency response agencies Gardai, Local Authorities for their efforts, dedication and support.
Commenting Ann Cosgrove, Chief Operations Officer, Saolta University Health Care Group and a member of the ACMT added, "The number of patients with COVID-19 being admitted to Letterkenny and Sligo University Hospitals over the last number of weeks increased gradually and we didn't experience a surge in admissions which would have overwhelmed the hospitals with devastating consequences. This is due to the willingness of the public to comply with the public health measures and it is really important that everyone continues to follow the public health advice in relation to washing hands, cough etiquette, keeping safe distance and staying at home. This is the best way we can protect patients and families, staff who are working on the frontline and our community. There is no room for complacency."
Feeling anxious or worried more than usual in response to Covid is a normal reaction to something we are not used to.  Uncertainty generates fear and it can make us feel like we have no control.  The HSE has developed some useful information at to support people's mental health and wellbeing at this time www.govt.ie/together. A new free online programme to support people's mental health and wellbeing called stress control is now available online www.stresscontrol.org
 
Mr Hayes reminded the public that the Community Response Forums led by the Local Authorities to coordinate and mobilise community supports is playing a fantastic support role to vulnerable populations and communities.  If you need support please make contact with the following Helplines:
·        Donegal Helpline: 1800 928 982 or covidsupport@donegalcoco.ie
·        Sligo Helpline: 1800 292 765 or covidsupport@sligococo.ie
·        Leitrim Helpline: 071 965 0473 or covidsupport@leitrimcoco.ie
         Cavan Helpline: 1800 300 404 or covidsupport@cavancoco.ie
·        Monaghan Helpline:1800 804 158 or covidsupport@monaghancoco.ie
The HSE are reminding people not to delay seeking medical attention for non Covid-19 Health issues.  If anyone has a medical problem, new symptoms or are concerned about their health, please ring your GP.  If it is an emergency, please ring 999 or 112 – please note that all acute hospitals have put in place stringent measures to protect patients and new pathways have been introduced in the Emergency Departments.
For information and advice on COVID-19 please visit www.hse.ie/coronavirus
The article above is specific to the following Saolta hospitals::
Letterkenny University Hospital (LUH)