You are here
Merlin Campus Environmental Appreciation Day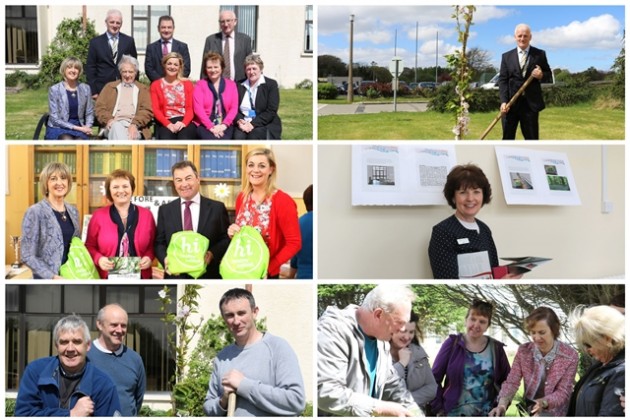 Merlin Campus Environmental Appreciation Day was held in Merlin Park University Hospital on Monday 24th  April with representatives attending from Saolta University Health Care Group and Community Health Organisation CHO2, Galway, Mayo and Roscommon together with others located on site, for example the Irish Wheelchair Association.
During the appreciation day, two cherry blossom trees were planted by Tony Canavan, Chief Officer, CHO 2 and Local historian & HSE Alumni Norbert Sheeran in memory of the late Dr Noel Browne, former Minister for Health who initiated the building of Merlin hospital and the Waithman family, the last private owners of the Merlin Estate.
Various environmental displays were showcased and MPUH horticulturist Sean Purtell (Training Centre) and Head Gardener Sean Fergus who looks after the grounds so well, both shared their expert advice on the sewing and planting of flowers and shrubs.  Staff were encouraged to pot a plant and take it back to their office. A comprehensive list of trees on the Merlin Campus was also on display.
During the day the weekly Wednesday 'Walks and Runs' at lunchtime was launched and the presentation of prizes for Live Life, Love Walking Day by Susan McCormack National Programme Lead for Healthy Ireland Framework was held.  Staff are encouraged to get out and be active particularly during the summer months.  Tips for success and lots more information and maps are available @ www.hospitalwalks.com
A slide show presentation captured all the plants and animals on the Merlin Campus, and Bird Watch Ireland was in attendance to offer their input on the different species of bird to be found on campus. A Smoking Cessation Officer was also available for advice and support in giving up smoking.
Margaret O'Toole, Business Manager, MPUH, said,  "Our main focus is always on patient care and getting our patients back to their full health potential.  International studies have shown that hospital patients with a view of greenery recover more rapidly, and require less pain medication and therefore it's a priority that we respect and care for our environs.  Staff here share a sense of pride in keeping this site looking well.  Our environmental day was to remind us all of the pleasures that surrounds us and to encourage everyone to take a moment at lunch time to communicate with and appreciate nature.  This campus provides a peaceful place to walk, relax, listen to birdsong and observe the changing seasons, for the enjoyment of all staff, patients and visitors." 
The article above is specific to the following Saolta hospitals::
Merlin Park University Hospital (MPUH)