You are here
Mayo University Hospital using mobile computing to improve patient care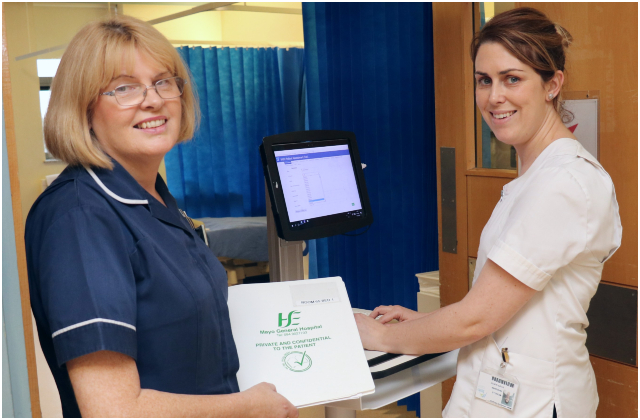 Mayo University Hospital has introduced 35 mobile 'point of care' computers which are available for staff in the wards throughout the hospital and in the Emergency Department. Each computer has a clinical grade keyboard and mouse which can be deep cleaned for infection control purposes.
The computers are WiFi enabled and this means that staff can access the patient administration system, the radiology system, the laboratory system, nursing patient risk assessment and screening tools and email so that the information needed to care for patients can be available at the bedside.
Caroline Conway, Assistant Director of Nursing was involved in rolling out the new point of care computers in the hospital and she said, "The new WiFi enabled, mobile computers are one of a range of initiatives introduced at the hospital to improve communications for staff and enable more efficient care of our patient. By having access to the most frequently used hospital systems at the patient's bedside we have better engagement with our patients, streamline our processes, save time and avoid duplication of effort. It also improves our communication as staff have easy and quick access to the hospital email throughout the day."
Catherine Donohoe, General Manager, Mayo University Hospital commented, "The introduction of the point of care mobile computers was to enhance patient engagement and enable our staff to deliver high level of quality care efficiently. These point of care commuters enable staff to book diagnostics, read reports and very soon will be able to complete the discharge letter and prescription by the bedside of the patient resulting in better patient doctor communication. They also support more efficient patient ward rounds by saving the doctors having to return to their offices to follow up on queries.
"It is most important that we hear what the staff need to help them do their job to their best; nursing staff use these for patient assessment and audit of care, all of which are impacting on the outcome and experience for our patient and our staff. Two of the themes of our quality improvement programme are staff and patient engagement which is critical to achieving high quality care. Evidence shows that services whose staff and patients are engaged report better patient experiences, fewer errors and higher staff morale and for all of these reasons we will continue to progress an active Staff Engagement Forum and Patient Experience Forum here at the hospital."
Photo Caption:
Staff nurses Mary Neary and Michelle Heneghan using a 'point of care' computer on the C Ward at Mayo University Hospital.
The article above is specific to the following Saolta hospitals::
Mayo University Hospital (MUH)