You are here
Mayo University Hospital launch 'Butterfly Scheme' to enhance quality of dementia care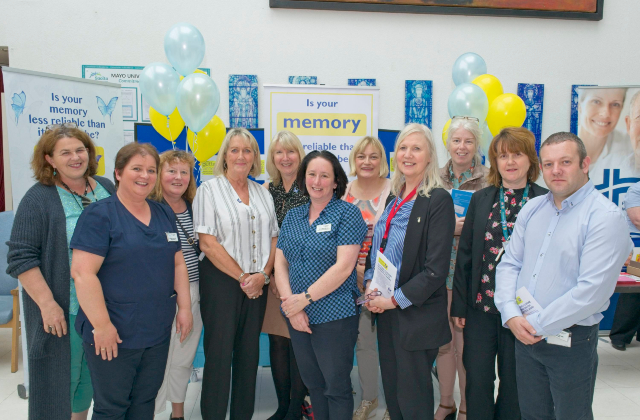 Mayo University Hospital in collaboration with the founder of the Butterfly Scheme, Barbara Hodkinson, officially launched the 'Butterfly Scheme' in Mayo University Hospital today, Tuesday, 04 September.  The Butterfly Scheme allows people with temporary confusion, memory loss and dementia to make this fact clear to hospital staff and provides staff with practical training to offer a simple, five-point, targeted response to meet their needs. At-a-glance, discreet, identification via a Butterfly symbol is available for hospital patients who wish to participate. UK research has demonstrated that patients who choose to use this symbol receive more effective and appropriate care while in hospital.
Over thirty staff members have volunteered as Butterfly Champions and will complete their training under the leadership of Barbara Hodkinson, the UK founder of the Butterfly Scheme. The Butterfly Champions work in all areas of the hospital from ward clerks to porters, radiology staff, therapists, catering staff, nurses, doctors etc.
At the launch, Barbara Hodkinson said, "It is an absolute joy and privilege to be here today to officially launch the Butterfly Scheme and to be working with the team at Mayo University Hospital. The Butterfly Scheme has been adopted by over 180 teams across the UK, but this is only the third Irish hospital to adopt the scheme. I am especially delighted that a specialist dementia nurse is leading Mayo University Hospitals adoption of the scheme; her insight and passion are invaluable and I know she will support and encourage the whole team on an ongoing basis, supporting patients and families living with dementia or similar care needs. The scheme's adoption is embraced at the most senior level here and this will surely be very much appreciated by the team."
A National Audit of Acute Hospitals in Ireland 2014 found that 20% of people presenting to the acute service have dementia, therefore this initiative is pivotal in enhancing care for this vulnerable group and aligns with key principles of the Irish National Dementia Strategy launched in 2014. The Butterfly Scheme is much needed in light of the growing prevalence of dementia in Ireland and the findings of the first Irish National Audit of Dementia Care in Acute Hospitals in 2014 that highlighted the lack of standardised care for people with dementia in Irish hospitals.
Catherine Donohoe, General Manager, Mayo University Hospital stated, "The hospital has brought in other measures over the years to help meet the needs of patients with dementia, but this is expected to be a game changer for awareness of need with targeted care and attention for this vulnerable patient group and their families."
Director of Nursing Dr Pádraig Ó Lúanaigh, Mayo University Hospital said, "The introduction of the scheme was part of the Hospital's on-going commitment to improving the quality of care and services provided at the hospital and a sign of this commitment from colleagues was the significant number of hospital staff who volunteered as Butterfly Champions."
Michelle Redmond, Dementia Lead Nurse, Mayo University Hospital said, "The Butterfly Scheme increases awareness among staff and provides education and training to complement the goals of the Irish National Dementia Strategy launched in 2014, which states that all hospital staff involved in the care and treatment of people with dementia should be aware of their diagnosis and its impact."
Photo caption
Pictured at the Butterfly Scheme launched in Mayo University Hospital today were from left to right; Lucy Martindale, Deputy General Manager, MUH; Michelle Redmond, CNM 2, Dementia Care; Ann Lavelle, Allocations Liaison Officer; Ann Noon, Butterfly Scheme; Barbara Hodkinson, Butterfly Scheme Founder; Ann Marie Browne, Cardiac Rehabilitation; Annette Cuddy, Director, CNME; Mona Curry, ADON; Ruth Hoban, Nurse Tutor, CNME; Claire Moran, Medical Records Officer and Fran Power, CNM 3, Dementia Care.
The article above is specific to the following Saolta hospitals::
Mayo University Hospital (MUH)