You are here
Mayo University Hospital introduces Patient Visiting by Appointment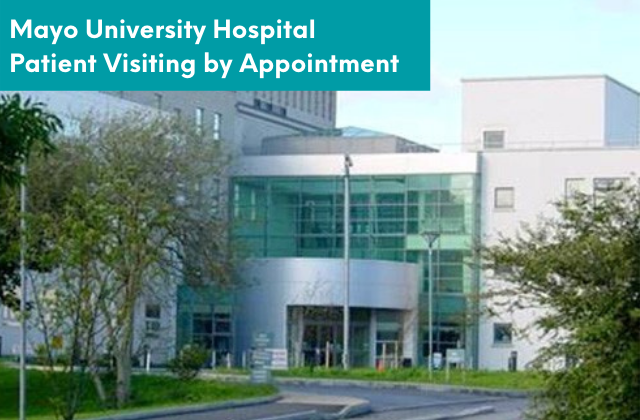 Mayo University Hospital is facilitating visits to patients in the ward areas by appointment. Appointments will be staggered across all ward areas each day from 2pm to 4pm.
Catherine Donohoe, Hospital Manager said, "We are delighted to be in a position to introduce visiting by appointment from Monday 31st May. This is following a trial on two wards which worked really well.
"We recognise the importance of family contact and having an appointment system allows us to minimise the risk to patients, family members and staff of COVID-19.
"Patients will identify who they would like to have a visit from and we will then make contact with that person by telephone and offer them an appointment slot. There will be one visit per patient at any given time and each visit can last up to 30 minutes.
"Visitors will be asked to arrive at their booked visiting time to the main hospital entrance where they will complete a COVID-19 screening questionnaire and receive a visitor pass.
"Now that we are introducing visiting by appointment, the patient property drop off service will end on Sunday 30 May. I would like to acknowledge the work by our Director of Nursing,  Dr Pádraig Ó Lúanaigh and his team along with our security staff in organising the safe return of patient visiting.
"As COVID-19 restrictions are eased, the Mayo University Hospital Patient Experience Advisory Committee will be developing a 'Purposeful Presence with Patients' programme and we look forward to sharing more information on this in due course."
The article above is specific to the following Saolta hospitals::
Mayo University Hospital (MUH)