You are here
Mayo University Hospital asks for your support to keep the hospital smoke free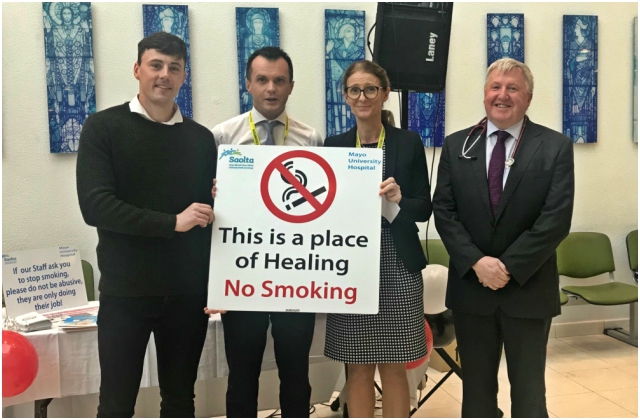 Today, Monday 14 October, Mayo University Hospital has started a renewed focus on keeping the area around the hospital and the hospital grounds smoke free.
In 2014 the hospital introduced a smoke free campus policy and after an initial period of success, compliance with the policy has started to reduce with patients and visitors frequently seen smoking outside the main entrances of the hospital.
Catherine Donohoe, General Manager, Mayo University Hospital said, "We all know the harmful effects of smoking and breathing in someone else's smoke. Every day our patients, visitors and staff have to suffer walking through second-hand smoke as they enter the hospital or move around the hospital campus.
"We are asking that all visitors, patients and staff refrain from smoking anywhere on the grounds of this hospital so we can have a clean, smoke free environment for all.
"We have new signage around the entrances reminding people not to smoke and as a reminder for everyone of how important it is to keep the air around our hospital clean. We treat patients with serious respiratory problems, cardiac problems and cancers here. We also have pregnant women and infants visiting the hospital for appointments. The impact of second-hand smoke is well-documented and all our patients deserve to breathe clean air.
"We want to promote the hospital as a place of healing, we need your help to do this. Please do not smoke here."
Maria Leitermann, COPD Nurse, Mayo University Hospital added, "We know that tobacco addiction is a reality and we actively provide supports to patients who want to quit while in hospital so that they don't have to leave their hospital bed to go outside for a smoke. There are also many supports available in the Community. Talk to your GP or Pharmacist for advice on stopping smoking.
"Alternatively, contact the Mayo Stop Smoking Support Service (087 383 7895) or the HSE's national smokers' quitline (1850 201 203) and website (quit.ie). It is never too late to stop smoking. Quitting is the single best thing you can do to improve your health. It will also improve the health of those around you."
Photo Caption:
Mayo Senior Football Captain Diarmuid O'Connor at Mayo University Hospital today to support the hospital's efforts to keep the hospital and grounds smoke free, with from left: Adrian Burke, Finance Manager; Catherine Donohoe, General Manager; and Dr Cyril Rooney, Respiratory Consultant.
The article above is specific to the following Saolta hospitals::
Mayo University Hospital (MUH)