You are here
Mayo University Hospital and the Saolta Staff Recognition Awards 2019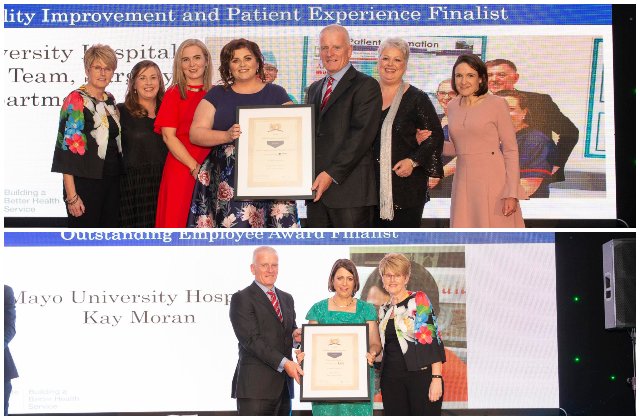 Mayo University Hospital (MUH) won a Saolta Staff Recognition Award for 'Outstanding Employee' and was shortlisted for a second award at ceremony in the McWilliam Park Hotel, Claremorris on Friday evening.
More than 160 nominations from across the Saolta Group of hospitals were received for the six award categories which included: Innovation in a Clinical Area Award; Innovation in a Non Clinical Area Award; Research Award; Education and Training Award; Quality Improvement and Patient Experience Award, in addition to the Outstanding Employee Award won by MUH.
The event was hosted by Mayo Senior Football Manager James Horan and the awards were presented by Saolta CEO Tony Canavan and Chief Director of Nursing and Midwifery, Jean Kelly.
Catherine Donohoe, General Manager, Mayo University Hospital said, "I am delighted that Kay Moran, who works in our Human Resources Department, was awarded the 'Outstanding Employee Award'. Kay is hugely dedicated and compassionate in her dealings with others. She is reliable and willing to go beyond what is expected in her role. Her knowledge and expertise is a real asset to the hospital and she is a deserved winner."
In addition to winning the 'Outstanding Employee Award', the Colorectal Team in the Surgical Department was shortlisted for the 'Quality Improvement and Patient Experience Award' for their work on Enhanced Recovery after Surgery (ERAS) for colorectal patients.
The Saolta University Health Care Group Staff Recognition Awards take place every 2 years and aim to recognise the important role that staff play in delivering services to patients cared for in all six hospitals in the Group. All applications are judged by an independent panel and the event is self-funded through sponsorship.
The article above is specific to the following Saolta hospitals::
Mayo University Hospital (MUH)