You are here
Mayo University Hospital – a great Student Experience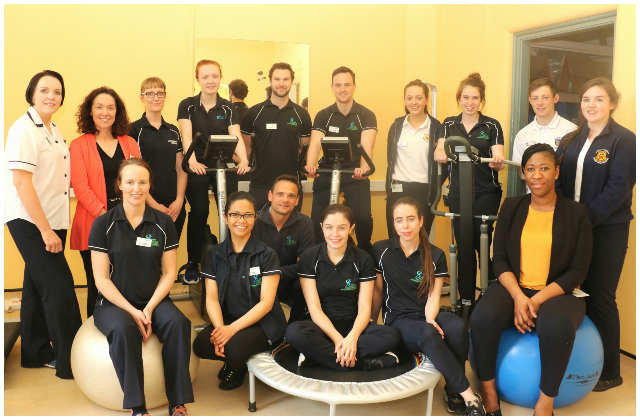 Since 2007, Mayo University Hospital (MUH) has enabled over 160 physiotherapy students from Ireland and overseas to undertake clinical placements as part of their third level qualification. The hospital has a formal arrangement with the University of Limerick and the Singapore Institute of Technology, via a partnership with Trinity College Dublin, to facilitate up to 18 student placements each academic year.
Aoife O'Keeffe, Senior Physiotherapist at MUH, is responsible for co-ordinating the placements and supporting the students while working in the hospital. She explained the success of the student placement programme and said, "Many of the recent graduates who had clinical placements here as parts of their studies have returned to Mayo to work in our department.  This is a testament to the wonderful student placement programme that we have here and reflects the excellent opportunities for learning in a teaching hospital such as MUH.
"Through our partnership with the University of Limerick we facilitate 28 weeks of placement, over the course of a year that may incorporate a total of 16 students.  The students are assigned to experienced physiotherapists to gain an understanding of physiotherapy as a healthcare profession within the hospital and to apply their clinical practical skills. For the past 3 years we have also facilitated two students for the month of April from the Singapore Institute of Technology.
"The transition from a student to a qualified working physiotherapist can be difficult.  The new graduates appreciate being able to start their working careers surrounded by experienced physiotherapists who have worked with students and know what support to give."
A former student who completed a placement in MUH and then returned to work full time after graduation is Sinéad Gaffney who said, "I felt welcomed to the department as a student and all the staff were really approachable – I didn't always feel like the student. I knew that I would always be welcomed as an employee if I was to get a job here. I returned to MUH one year ago and I am delighted to be working here as a physiotherapist.  I can now help students put into practice the knowledge and skills they learn in college."
Catherine Donohoe, Hospital Manager added, "As a teaching hospital we are involved in developing the healthcare professionals of the future and we do so in a way which promotes all departments working together with a strong focus on meaningful patient engagement which ensures high quality safe service. When they leave here after a work placement, students have gained a wide range of experience treating different groups of people in a busy hospital environment and they learn what it is like to interact with colleagues from many specialties and departments. The hospital is proud to be seen as such a positive environment for learning for our entire multidisciplinary team and welcome students to be active team members while working here with us."
Photo caption:
Some of the Physiotherapy Department Team at Mayo University Hospital, including students on placement and former students who have returned to work full time at the hospital after graduation.
The article above is specific to the following Saolta hospitals::
Mayo University Hospital (MUH)