You are here
Maternal Wellbeing Initiatives at Sligo University Hospital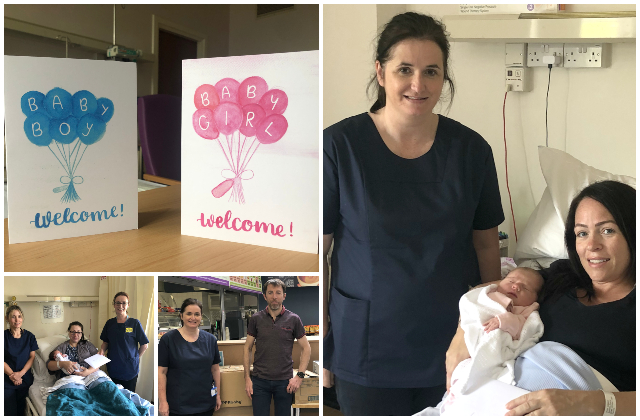 Sligo University Hospital has introduced two new maternal wellbeing initiatives to support new mothers and mothers-to-be in the hospital.
Dr Vimla Sharma, Consultant Obstetrician at the hospital and the Associate Clinical Director for the Women's and Children's Directorate said, "During the COVID-19 pandemic we have had to make changes at the hospital to minimise the chances of spreading the virus, to protect mums, babies and staff. Unfortunately this means, for now, families can't visit to celebrate the birth of a baby in the postnatal ward.
"We know how difficult this is for everyone, so to mark the birth of a new baby, we have designed a memory keepsake card which is given to the new mums with a small gift. It is our small way of celebrating the birth with mothers while they are in the hospital. We are very grateful to the local companies which have supported us with this initiative including Kool Kidz, Printfix, Elave Skincare, XL Rathcormack and Bay View Rosses Point Stores.
Juliana Henry, Director of Midwifery added, "The days can be long without visitors, particularly for the pregnant women who spend time in hospital before birth. Our second initiative is to help pass the time by making colouring sheets and colouring pencils available. Colouring has the ability to generate mindfulness, reduce stress and calm the mind and this initiative has been really well received."
Grainne McCann, Hospital Manager said, "We are very aware of the impact of the visiting restrictions on patients and their families and our staff are continually coming up with ideas to help our patients. We will never be able to replace the person-to-person interaction that we are all missing in our lives but we will continue to think of ways to make our patients' stay as comfortable as possible."
The article above is specific to the following Saolta hospitals::
Sligo University Hospital (SUH)