You are here
LUH - Winners at the Saolta University Health Care Group Staff Recognition Awards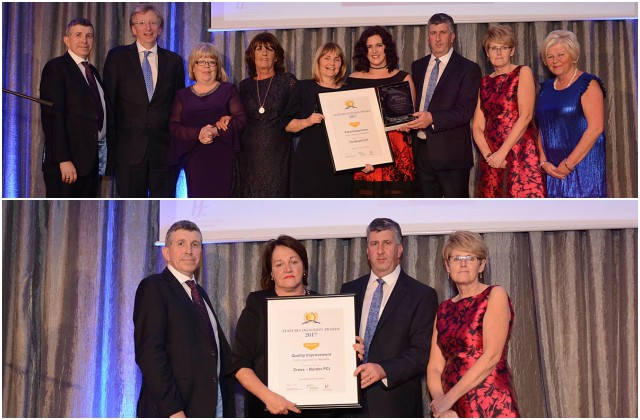 The 3rd Saolta University Health Care Group Staff Recognition Awards took place recently in the Ardilaun Hotel Galway and Letterkenny University Hospital was presented with two awards at the event, the e-Rostering project at LUH won the Non-clinical Innovation award and  the Breast Unit at LUH won the Patient Experience award.
 
Over 145 projects or initiatives from services and departments across all of the hospitals in the Saolta Group were nominated in seven different categories. Winners were presented with their awards by Saolta Group CEO Maurice Power and Group Director of Nursing and Midwifery Jean Kelly.
 
Commenting Sean Murphy, General Manager Letterkenny University Hospital said, "These awards provide an opportunity to recognise and celebrate the contribution and achievements of staff delivering services in the hospital across areas of patient care and education and research. We are delighted that in total four projects were shortlisted for these Staff Recognition Awards. In addition to the winning projects, the cross-border pPCI project was nominated in the Quality Improvement category and Mary Murray, Community Paediatric Nurse Specialist, LUH was nominated in the Unsung Hero category".
 
This is the third year of the Saolta University Health Care Group Staff Recognition Awards which aims to recognise and reward excellent staff performance, promote a sense of pride and reinforce the Saolta University Health Care Group as an excellent place to work.  Applicants from across the Group's hospitals were invited to participate in seven categories, which included; Unsung Hero category, Research, Education and Training, Clinical Innovation, Non-clinical Innovation, Patient Experience and Quality Improvement. 145 entries were received and these were shortlisted to finalists in each category by an independent judging panel. The winners were announced on the evening by event host Maura Derrane at an event attended by the finalists. The Saolta Staff Recognition Awards is self-funding from sponsorship received.
The article above is specific to the following Saolta hospitals::
Letterkenny University Hospital (LUH)