You are here
Letterkenny University Hospital introduces virtual tour of the Maternity Unit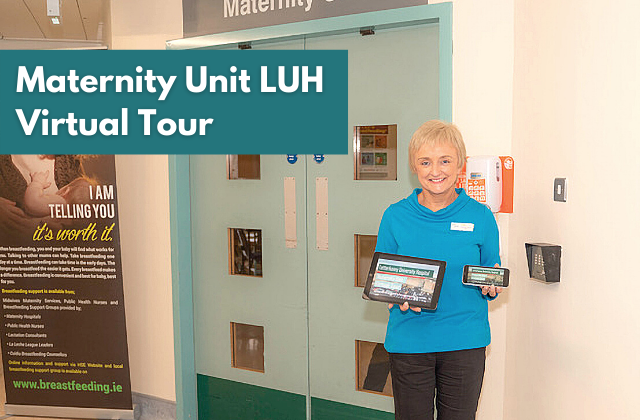 Letterkenny University Hospital has filmed a virtual tour of the Maternity Unit which is now available to view online here
The aim of the tour is to allow expectant mothers and partners/family members to view the interior of the Maternity Unit and hear staff talk about maternity services.
Evelyn Smith, Director of Midwifery at Letterkenny University Hospital said, "Unfortunately it is not possible for women and their birthing partners to tour the maternity unit in advance of giving birth at the moment due to the need to reduce footfall as part of our infection and prevention precautions for COVID-19.
"We know how important it is to be as prepared as possible for this life-changing event so we have worked with our colleagues in the Nursing and Midwifery Planning and Development Unit to put together a virtual tour of the maternity unit.
"The virtual tour gives an insight into the services in the Maternity Unit and introduces some of the people working here including midwives, clinical midwife specialists and an obstetrician. The tour includes the admission room, the birthing suite, the fetal assessment unit, the maternity theatre and the neonatal unit.
"We have the tour available to view on the Saolta website and YouTube channel which means that the tour can be watched at any time. We look forward to a time when we can revert to an open door policy and in the meantime we will continue to provide essential care to women and their babies and do everything we can to ensure the hospital is protected from the ever-present threat of COVID-19."
Video link: https://youtu.be/ByCJao0uAlk
The article above is specific to the following Saolta hospitals::
Letterkenny University Hospital (LUH)