You are here
Letterkenny University Hospital addressing sustainability issues in 2019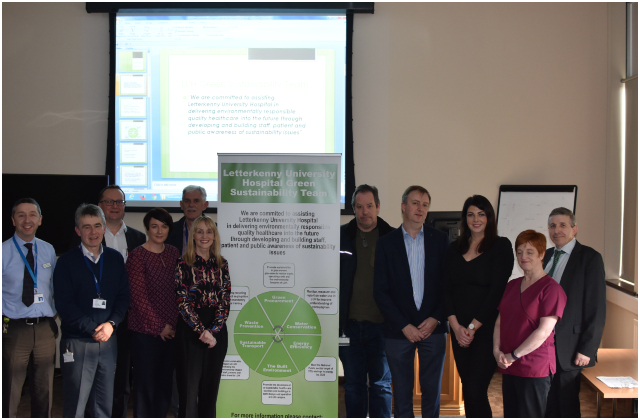 The Sustainability Team at Letterkenny University Hospital will be focusing on training staff, providing advice and introducing a number of initiatives to reduce the hospital's impact on the environment in 2019.
Each month there will be a different sustainability focus at the hospital under four themes: waste prevention, water conservation, sustainable transport and energy efficiency.
Commenting on the sustainability calendar of events in 2019, Seán Murphy, General Manager said "Here in Letterkenny University Hospital we are adopting a multi-faceted approach to address sustainability issues, while maintaining a healthy, green and comfortable environment for patients and staff. We are committed to delivering environmentally responsible quality healthcare into the future by developing staff, patient and public awareness of sustainability issues.
"This will require everyone to work together to reduce the environmental impacts from pollution, waste, transport, water, materials and equipment. The hospital will meet these challenges by embracing and promoting sustainable environmental opportunities and by translating best practice into action within the healthcare environment."
Photo Caption:
Letterkenny University Hospital's Sustainability Team who will be supporting the delivery of environmentally responsible quality healthcare at the hospital in 2019, from left: Mark Duffy,  Catering Manager; Michael O'Brien, Energy Officer, HSE North West; Peter Byrne, Facilities Manager; Jackie Ghosh, Distribution Manager; Liam Price, Waste Coordinator; Maria McFadden, Facilities Office Manager; Denis McKeague, Maintenance Electrical Foreman; Declan McGoldrick, Project / Energy Manager, HSE North West; Rachel Boylan, Radiology Manager; Judy Patterson, Central Sterile Services Department Manager; and Seán Murphy, General Manager.
The article above is specific to the following Saolta hospitals::
Letterkenny University Hospital (LUH)