You are here
Letterkenny Project Commended for "Improving Working Lives" at UK Awards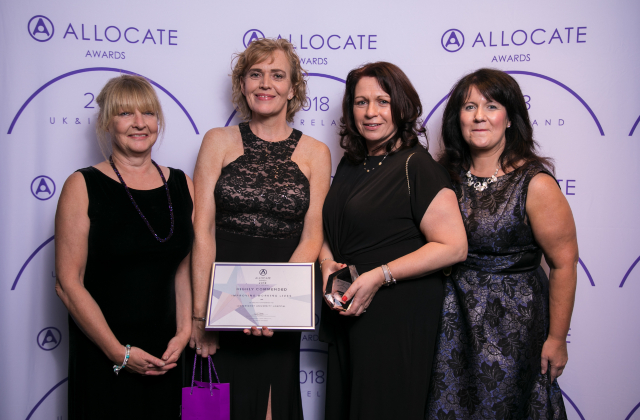 Letterkenny University Hospital (LUH), along with three UK NHS Health Services, was shortlisted for the 2018 Allocate UK and Ireland Awards under the "Improving Working Lives" category. The Allocate UK and Ireland Awards recognise those who create new ways of working to meet the demands of modern healthcare organisations.
The LUH project looked at an online solution to match the availability of temporary staff with available shift work.
Michelle O'Hara-Donnelly is the eRostering Project Manager at LUH who was responsible for leading out on the project. She said, "The new online solution means that temporary nurses, midwives and healthcare assistants can check for any vacant available shifts in the hospital from their mobile or any internet-enabled device. And if they find a preferred shift which suits them, they can confirm their availability from the comfort of their own home.
"It means that we are more efficient at rostering staff and can make sure that we have the optimal mix of staff available to meet the patients' needs.
"The feedback from staff who use the system has been fantastic. One member of staff told us that she can now organise her work around her family life instead of the family working around her work.
"As part of the awards process, our project went through a rigorous assessment by an independent judging panel which included members of NHS Employers, NHS Improvement, Public Health England, Nursing Times, Queens Nursing Institute, and the British Medical Association.
"We were delighted that our project was Highly Commended at the awards ceremony which took place in Manchester, particularly against such strong competition from the Lancashire Care NHS Foundation Trust, the Newcastle upon Tyne Hospitals NHS Foundation Trust and the South West London Collaborative Staff Bank.
LUH at the Allocate UK and Ireland Awards
At the award ceremony, from left: Dr Anne Drake, Director of Nursing, Quality and Patient Safety; Yvonne Hanson, eRostering System Administrator; Sinead Bolton, Assistant Director of Nursing, Operational Management; and Michelle O'Hara-Donnelly, eRostering Project Manager.
The article above is specific to the following Saolta hospitals::
Letterkenny University Hospital (LUH)