You are here
Letterkenny's First COPD Event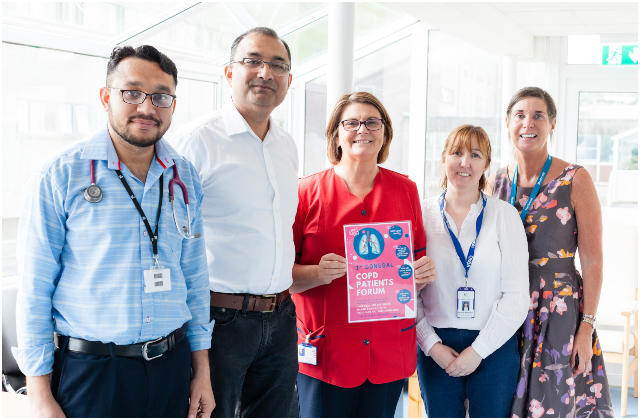 Letterkenny University Hospital is organising the first COPD (Chronic Obstructive Pulmonary Disease) patient information event for people with symptoms of COPD on Thursday 05 September in the Mount Errigal Hotel from 10.30am to 3.30pm.
Breda Callaghan who is the COPD Outreach Clinical Nurse Specialist at the hospital explains, "Chronic Obstructive Pulmonary Disease is a collective name for lung conditions such as chronic bronchitis and emphysema. These conditions or a combination of these conditions are called COPD. The main risk factors for COPD is tobacco smoking but other environmental exposures such as biomass gases and air pollution can also contribute. Other factors such as abnormal lung development, genetic abnormalities and accelerated aging may also result in COPD.
"To support people with COPD or people who may have symptoms such as increasing breathlessness, a constant cough with mucus production, frequent chest infections and chest tightness, we are organising a patient information day where doctors, nurses and physiotherapists from the hospital who specialise in lung diseases will talk about COPD and answer questions.
"The event is free of charge and is open to patients, their families and friends and anyone who has questions about COPD. We will also have guest speakers including the President of Sligo COPD patient support group who will talk about the experience of setting up a patient support group in Sligo.
"Working as a COPD outreach specialist, I meet patients in hospital and carry out home visits when patients get out of hospital. This allows me to meet many patients and their families who have questions about COPD and who would benefit from supports outside of their clinical appointments.
"We recognised the need to have an event where we could bring the experts together to share their knowledge and advice for the benefit of all COPD patients and others who may be having symptoms and are concerned about their own lung health."
The event is free of charge and will include light refreshments. All are welcome!
Photo Caption:
Staff from Letterkenny University Hospital are encouraging members of the public to attend the first ever COPD information event in Letterkenny on 05 September. From left: Dr Ahmed; Dr Ijaz; Breda Callaghan, Clinical Nurse Specialist; Pauline Mc Fadden, Clinical Nurse Specialist; and Antoinette Doherty, Candidate Advance Nurse Practitioner.
The article above is specific to the following Saolta hospitals::
Letterkenny University Hospital (LUH)