You are here
Launch of new International Dysphagia Diet Standardisation Initiative at Galway University Hospitals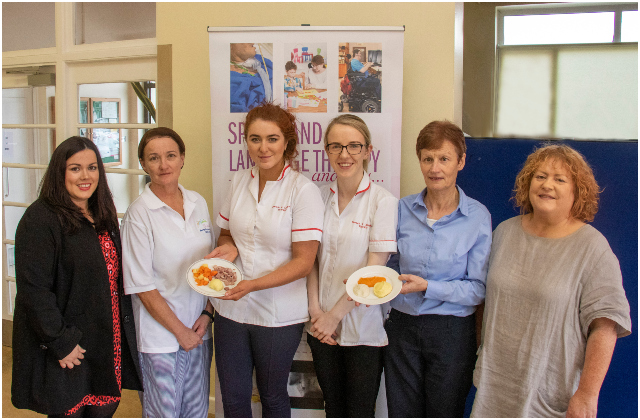 The Speech and Language Department at Galway University Hospitals (GUH) is taking part in a worldwide launch of a new grading system for modified diets/fluids for people with Dysphagia, which is the medical term for swallowing difficulties.
Gerardine Keenan, Speech and Language Department Manager at GUH said, "There are many people who require a special diet to prevent choking or to prevent food and drink getting into their lungs and causing illness. Many older patients and people who have had a stroke, a neurological injury, or cancer of the head/neck will have a 'Clinical Swallow Evaluation' carried out by Speech and Language Therapy staff in the hospital to determine the most suitable diet for them and from now on this will be graded using a new internationally-recognised system.
"In the past in Ireland we identified modified diets and fluids by grades of fluid and textures of food. Other countries had different ways of categorising diets.
"The new grading system is being introduced into all hospitals in Ireland and around the world for safety reasons. No matter where patients are being treated, their modified diet/fluids will be identified in the same way. It will mean that patients can move easily between hospitals or if they need to go to hospital while on holidays abroad, the same system will be used to identify the diet that they need which will enhance patient care and safety.
"We have worked closely with our colleagues in the Catering Departments in both University Hospital Galway and Merlin Park University Hospital to introduce the new way of identifying modified diets/fluids and their support has been essential for the smooth transition to the new system."
Photo Caption:
At the launch of new International Dysphagia Diet Standardisation Initiative at Merlin Park University Hospital Galway (MPUH), from left: Kristine Coffey, Speech and Language Therapist, Community Healthcare West; Ita O'Brien, Chef Grade 2, MPUH; Maeve McEnroe, Speech and Language Therapist, MPUH; Hannah Loughnane, Speech and Language Therapist, MPUH; Mary Killeen, Catering Manager, MPUH and Geraldine Keenan, Speech and Language Therapy Manager, Galway University Hospitals.
The article above is specific to the following Saolta hospitals::
Merlin Park University Hospital (MPUH)