You are here
Irishkidneydiet.ie – An education website for patients with Chronic Kidney Disease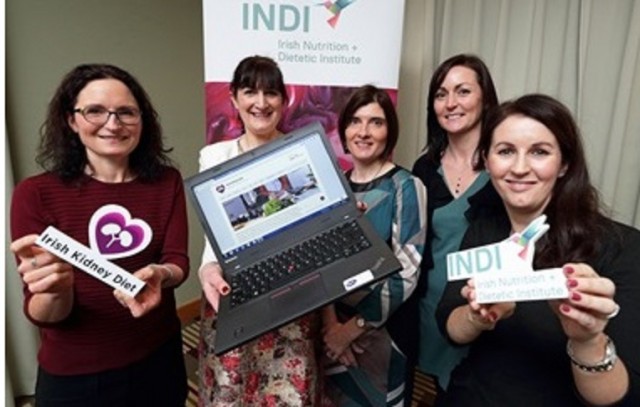 Irishkidneydiet.ie is the brain child of a small group of Dietitians from the Renal Interest Group of the Irish Nutrition and Dietetic Institute. The vision behind the website was to create a patient education website covering all aspects of the renal diet for people with chronic kidney disease and their Carers.  For the last number of years Renal patients have been checking out websites available for their condition. The only sites on offer were often American or Canadian and therefore were not 100% suitable for the Irish patient group (due to differences in teaching methods, renal diet allowances used and availability of food items in recipes).
It is estimated that up to 280,000 individuals in Ireland and more than 70 million individuals worldwide have Chronic Kidney Disease (CKD).  Diet is a critical part of treatment for patients with CKD and there are a number of dietary changes these patients will need to make. This can be a difficult time for those newly diagnosed and something which state registered renal dietitians support patients with on a daily basis.
Celene Sands, a Senior Dietitian at Mayo University Hospital and a member of the Renal Interest Group of the Irish Nutrition and Dietetic Institute, spends a proportion of her working hours advising patients with kidney disease about a lower salt, fluid restricted, modified protein diet, depending on their condition.  "When the patient goes home, they can struggle to find new ideas and new recipes", Ms Sands explained, "and this is where irishkidneydiet.ie comes in.  This Irish resource uses readily available ingredients and Irish weights and measurements to make it easier for patients and their carers to find what they need.  The website also gives lots of practical advice for salt, fluid and phosphate restriction – all components of the kidney diet for Irish patients".
www.Irishkidneydiet.ie will help those interested to understand the kidney diet better, to explore new avenues with regard to cooking on a kidney diet and to improve the food choices and variety available to them.  The website contains over 40 tasty recipes, a selection of daily meal plans, useful videos and lots of FAQs to help patients on their journey. 
The article above is specific to the following Saolta hospitals::
Mayo University Hospital (MUH)