You are here
Invitation to Sligo University Hospital Maternity Patient Forum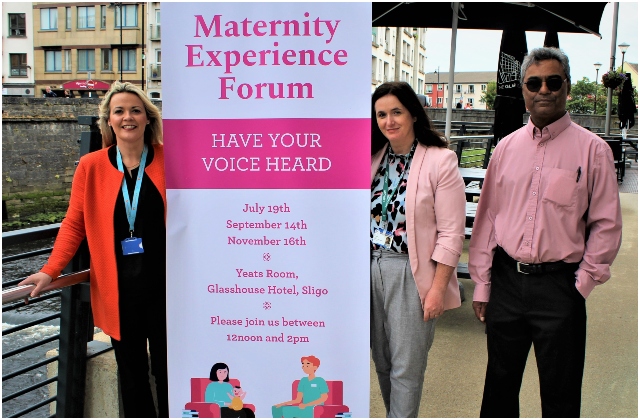 The Maternity Department in Sligo University Hospital (SUH) is inviting women who have recently attended the unit or who are currently accessing maternity services to get involved with an upcoming patient engagement forum.
The forum is an opportunity for hospital staff to meet with women and learn from their experience of the maternity services in SUH. The event will take place in the Glasshouse Hotel Sligo on Tuesday 19 July from 12pm to 2pm. Buggies and babies are welcome and light refreshments will be provided.
Marla Kennedy, Midwife Manager Antenatal Education at SUH said, "We are always looking for ways to improve the service we provide to women and babies in the Maternity Unit and have recently established a steering committee to develop important quality initiatives. One action of the committee is to increase patient engagement. It is really important for us to listen and learn from our patients to identify areas we can improve on.
"This patient forum is for anyone who has attended the Maternity Unit in the past 12 months, our patients have unique viewpoint and can reflect on their care from a personal perspective. We want to hear about these experiences, good or bad, so that we can make positive changes for patients and their families. We really are looking forward to meeting with patients and former patients to build a better maternity service. The event is informal and you can drop in whenever it suits between 12pm and 2pm. Please contact suh.maternityexperience@hse.ie for further details if you wish to attend."
Photo caption:
Sligo University Hospital staff Marla Kennedy, Midwife Manager, Antenatal Education; Juliana Henry, Director of Midwifery Services; and Ravi Garrib, Consultant Obstetrician/Gynaecologist who are organising a Maternity Patient Forum for Sligo University Hospital on 19 July from 12-2pm in the Glasshouse Hotel, Sligo.
The article above is specific to the following Saolta hospitals::
Sligo University Hospital (SUH)