You are here
Happy Heart Award for the Heart of the Hospital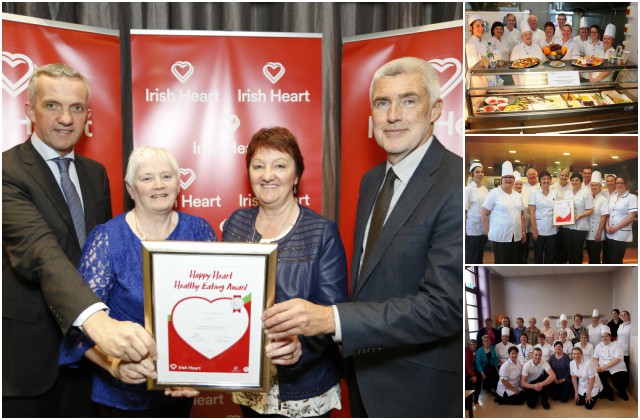 The Catering department at Roscommon University Hospital were recently presented with the Silver Award at the Irish Heart Foundation's Happy Heart Awards in recognition of the adoption of several healthy eating initiatives undertaken by the catering team in the Hospital restaurant. The aim of the awards program is to assist workplace restaurants to adopt healthier cooking practices and provide healthier food choices. They highlight the important role that caterers play in nutritional health and in the prevention of heart disease, stroke and obesity. In order to meet the criteria for the Silver Award the catering department implemented several initiatives in the hospital restaurant including chip free days on Monday and Friday, more high fibre choices, greater variety of fresh fruit and vegetable, oily fish rich in Omega 3 at least twice per week on the hot or cold menu, homemade soup available daily, healthier choices offered amongst standard confectionery and displayed at eye level, limiting of number of days on which full cooked breakfast is offered, removal of salt from the tables and serving of food portions are in line with the Food Pyramid.
Mary Garvey  General Manager, Roscommon University Hospital said, "The restaurant at Roscommon University Hospital is more than just an eatery. Behind the counter the staff work tirelessly to prepare meals for patients, and they also provide a place of rest and rejuvenation for both staff and visitors. The catering staff are professional in their work but also importantly they are unfailingly friendly. There is always a kind word, a joke and or a sympathetic ear when needed. It is the venue for many a leaving party with the skill of the staff on show with grand displays of cakes and sweet treats. It is the hub of the hospital. Indeed it could be considered that the Restaurant (known locally as "the Canteen") is the heart of Roscommon University Hospital, therefore it is more than fitting that the Catering Department were recently presented with a Silver Award at the Irish Heart Foundation's Happy Heart Awards and we are very proud of their achievements."
As part of their campaign to improve healthy eating awareness, calorie posting is now completed on all menus and foods offered in the restaurant. In addition, Healthy Heart Eating surveys are carried out every six months and feedback to date has been overwhelmingly positive with comments such as ''great selection of salads on offer and not over dressed with oils or sauces'', ''chips don't bother me - don't miss them'', ''calorie posting helps with awareness in making healthy choices'', ''have noticed the improvements in the food on offer''.  While Patricia Rogers and the staff of the catering department implemented the changes, as with everything in Roscommon University Hospital, there was a multidisciplinary approach to the project with support from many departments.
The Catering Department also play a key role on the Hospital Nutrition and Hydration Committee. They work closely with Hospital Dietician, Madeline Spelman, and Speech and Language Therapist, Caroline Escosio, and members of the nursing staff to respond to individualised patient needs for standard, special and modified menus. They undertake ongoing quality improvement initiatives regarding food choice, nutrient content, menu presentation, food safety, service standards, special diet requirements.
On top of winning the Happy Heart Silver Award, the catering staff also completed Hear Me! Communication Awareness Training, a training solution that was co-designed and co-produced by adults with communication impairments, staff and students from NUI Galway Speech and Language Therapy Department and HSE Speech and Language Therapists
2017 was also a year of change for the Catering Department with the retirement of two long serving members of staff, Margaret Brehony and Margaret Tully. Between them they had over fifty years of dedicated service and there were fond farewells for both ladies from staff of all disciplines at their leaving parties.
To cap off each year at the Hospital with some festive cheer, the Catering Team hosts the now legendary Annual Hospital Christmas Lunch. There is always fabulous food, music, singing and dancing – and that's good for the heart too!
Photo caption:
Photo 1 RUH - Patricia Hughes, Chef, RUH and Patricia Rogers, Catering Manager, RUH receiving the Silver Healthy Eating Award from Mr Tim Collins, CEO, Irish Heart Foundation and Prof. Donal O'Shea, Clinical Lead for Obesity, HSE
Photo 3698 & 3705– Staff from Catering Department at Roscommon University Hospital
Photo 4 – Current and former staff of the Catering Department, Roscommon University Hospital at a get together to mark the retirement of Margaret Tully
The article above is specific to the following Saolta hospitals::
Roscommon University Hospital (RUH)