You are here
Hand Hygiene Training at 100% for Medical Staff at Mayo University Hospital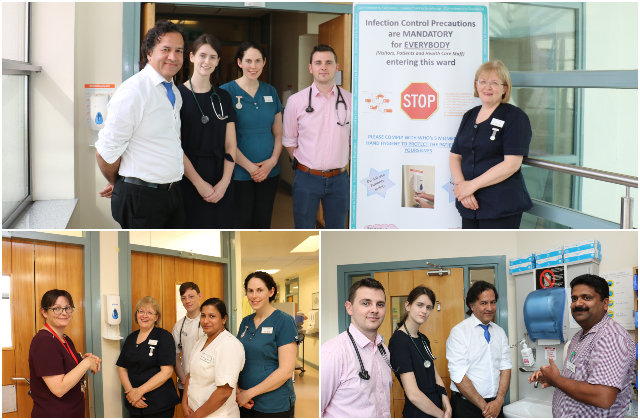 The Infection Prevention and Control Team at Mayo University Hospital (MUH) are delivering a rolling schedule of hand hygiene training which has resulted in 100% attendance by the Medical Staff and an overall total of 98.41% attendance by all staff of Mayo University Hospital.
Dr Shomik Sibartie is the Consultant Microbiologist and the head of the Infection Prevention and Control Team in MUH. He said, "Hand hygiene is everyone's responsibility in the hospital, not just the staff but also our patients and visitors.
"The first step is education to explain to people how important hand hygiene is and to ensure that everyone has a good technique for hand hygiene whether they are using soap and water or alcohol gel.
"Our Clinical Nurse Specialists provide training on hand hygiene to staff on a weekly basis and visit the wards every day to make sure that correct infection prevention and control procedures are in place and are being adhered to. We are supported in our efforts by the nurse managers on each ward who ensure that hand hygiene is always to the fore in the day to day working of the hospital.
"We are very close to 100% attendance at hand hygiene training by the entire staff and will keep working until we get to 100% ensuring that all new staff including the Non Consultant Hospital Doctors who change every 6 or 12 months are trained promptly and that refresher training is provided as necessary.
Catherine Donohoe, General Manager added, "Hand hygiene is one of the simplest and most effective ways to control the spread of infections in hospitals and healthcare settings. To help visitors and patients in the hospital we have introduced large posters at the entrance to each ward to remind people of the importance of hand hygiene and when to clean their hands. Working together, we can stop the spread of common infections and keep everyone as healthy as possible."
The article above is specific to the following Saolta hospitals::
Mayo University Hospital (MUH)