You are here
GUH Staff Recognition Award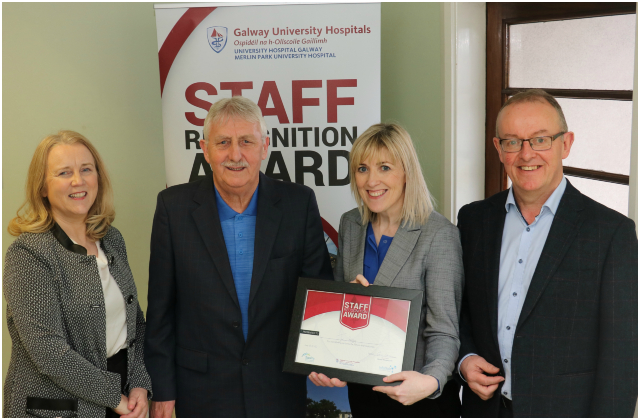 Galway University Hospitals (GUH) is delighted to announce that the second Staff Recognition Award was presented to Joe Kelly who has been providing the regional printing service for the hospital and other HSE services in the West for many years. Joe was presented with his award shortly before his retirement this week after 38 years of service.
Joe, who is originally from Tuam and is married to Loretto McDonagh, lives in Newcastle, Galway and was nominated for the award by Martin Molloy, Information Services Manager who described how Joe excelled at his job and went to great lengths to meet the printing needs of the hospital. He said, "Joe ensured that the thousands of printed forms and leaflets needed by the hospital every day never ran out. The quality of the work Joe provided was always excellent and he would meet urgent requests when the need arose, often staying late and working at lunchtime to deliver the service.
"However, Joe's greatest attribute is his helpful and friendly nature. Visiting the printing department and talking to Joe was like talking to a psychologist – you always ended up feeling better afterwards. Everyone has a good word to say about Joe and he will be truly missed."
General Manager of GUH, Ms Chris Kane said, "The Staff Recognition Awards aim to acknowledge and celebrate staff who go the extra mile for patients, who give an outstanding level of support to patients and colleagues or who are providing leadership by motivating, mentoring and inspiring others.
"Joe has always been exemplary in carrying out his duties and he is a very worthy recipient as someone who performs at a level above and beyond normal job requirements and expectations. Joe is known by nearly everyone in the hospital and on behalf of all his colleagues, I would like to wish him the very best for his retirement."
Photo Caption:
At the GUH Staff Recognition Award presented to Joe Kelly, from left: Mary Hynes, HR Manager; Joe Kelly; Chris Kane, General Manager; and Martin Molloy, Information Systems Manager, Saolta University Health Care Group.
The article above is specific to the following Saolta hospitals::
University Hospital Galway (UHG)