You are here
GUH Arts Trust Winter Raffle to raise funds for arts programme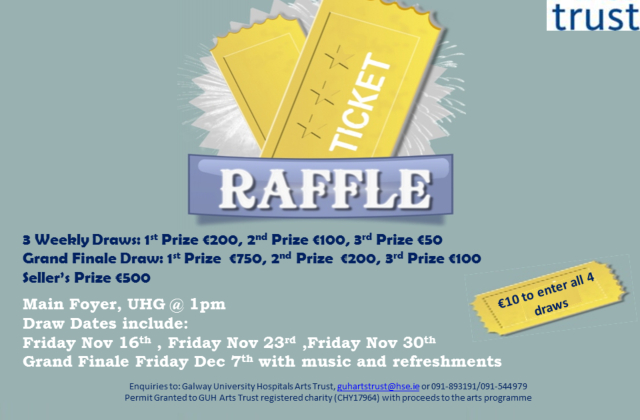 This November sees the beginning of the inaugural Galway University Hospitals Arts Trust Winter Raffle to raise funds for the work of the organisation. The draw will run over a period of 4 consecutive weeks beginning with week 1 on Friday November 16, week 2 on Friday November 23, week 3 on Friday November 30th and the Grand Finale on Friday December 7. Each draw will be held in the main foyer of University Hospital Galway on the above dates at 1pm lunchtime. The prizes for week's 1-3 include; first prize €200, second prize of 100 and third prize €50. The Grand Finale Draw which will be held on Friday December 7 includes first prize of €750, second prize of €200 and third prize of €100. The Grand Finale prizes shall be won before Christmas, with some lucky people having an unexpected Christmas present. For €10 a person will be entered into all 4 draws. Cards are available from GUH Arts Trust office and all lines on the cards must be sold to be entered into the draw for the seller's prize. Cards must be returned by seller's to the office by Monday November 12.
Margaret Flannery, Arts Director 'We are hoping the hospital community will get behind this fundraiser in support of the arts programme. We have exciting programmes planned for 2019 in the Saolta Group; including developing a play for children with A Dog and String Theatre and Little Barn Theatre for the paediatric departments across the group; artists in residence, A Poet Doctor, as well as art and creative writing workshops for our geriatric and longer stay patients in MPUH and UHG.  We need to raise funds to help us expand our reach to the hospital community.'
All funds raised by from the GUH Arts Trust Winter Raffle 2018 will go towards our 2019 programme. We aim to grow the arts programme throughout the hospital group and expand projects to different wards and units. We have some exciting plans for 2019 and your support of the GUH Arts Trust Winter Raffle is very much appreciated.
Cards are available from Bridget Cheasty, Arts Assistant, Galway University Hospitals Arts Trust, email bridget.cheasty@hse.ie or call 091-893191 or Margaret Flannery, Arts Director email margaret.flannery@hse.ie or call 091-544979
About the organisation:
Galway University Hospitals Arts Trust run the west of Ireland's leading Arts and Health programme as a means of improving the hospital experience for patients, staff and visitors. The arts trust believes access to the arts promotes well-being and enhances the hospital environment. We provide a multi-disciplinary programme of events and activities, including exhibitions, participative workshops, music, theatre and poetry.  GUHAT is a registered Charity (CHY17964).
The article above is specific to the following Saolta hospitals::
University Hospital Galway (UHG)