You are here
GUH's participation in Medtech Pulse Galway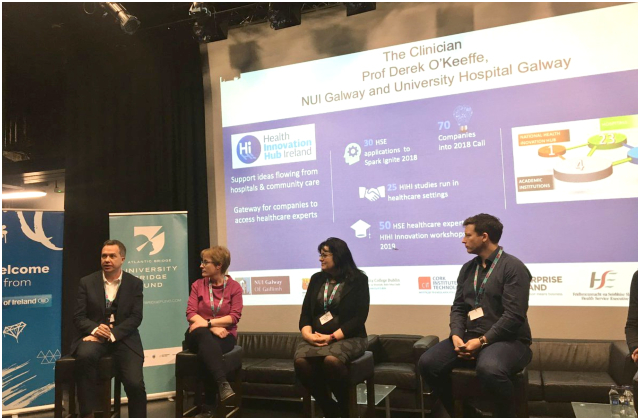 Professor Derek O'Keeffe, Consultant Endocrinologist at Galway University Hospitals (GUH) and Professor of Medical Device Technology at NUI Galway took part in the Medtech Pulse event hosted by the university on 21 February. The event, in partnership with Bank of Ireland and Atlantic Bridge University Fund, offered insights into the medtech sector in Galway including the role of education, research, acceleration and commercialisation.
Prof O'Keeffe spoke of the work of Health Innovation Hub Ireland based at the Lambe Institute, on the grounds of UHG, which is building on Galway's strong international reputation for excellence and innovation in healthcare. He said, "The objective is to foster a collaborative clinical needs led innovation ecosystem between NUI Galway, the Saolta University Health Care Group and industry to push the frontiers of knowledge, research and innovation in medtech. We need to find innovation at the bedside, develop technologies at the bench and ultimately bring them back to the bedside to improve patient care.
"The Medtech Pulse was a forum for Irish medtech innovators to share their experiences on how to achieve better outcomes for patients and impact on healthcare globally through innovative research."
Galway is a global hub for the medical technology industry with 8 of the world's top ten medtech companies based here. The Medtech Pulse event explored the programmes and initiatives in this area which are key to Galway's success in the sector and the future for a global medtech hub.
Over 150 people attended the event including clinicians from GUH and other hospitals in the Saolta Group. Several key medtech centres presented on innovation including BioInnovate Ireland, LaunchPad, Translational Medical Device Lab, BioExel- Ireland's only Medtech Accelerator and CÚRAM- Science Foundation Ireland Centre for Research in Medical Devices. The talks were followed by a panel discussion on the 'Foundations and Future' of the medtech sector with experts from industry, the healthcare sector and investors. Panellists included Dr Sinead Keogh Director, Irish Medtech Association, IBEC; John Power, CEO Aerogen; Helen Ryan, Atlantic Bridge; Dr Brendan Boland, Co-founder Loci Orthopaedics; and Professor Lokesh Joshi, VP Research, NUI Galway.
To find out more about Health Innovation Hub Ireland, please email Aisling Dolan at aisling.dolan@nuigalway.ie.  
The article above is specific to the following Saolta hospitals::
University Hospital Galway (UHG)