You are here
Great engagement at Letterkenny University Hospital Sustainability Awareness Day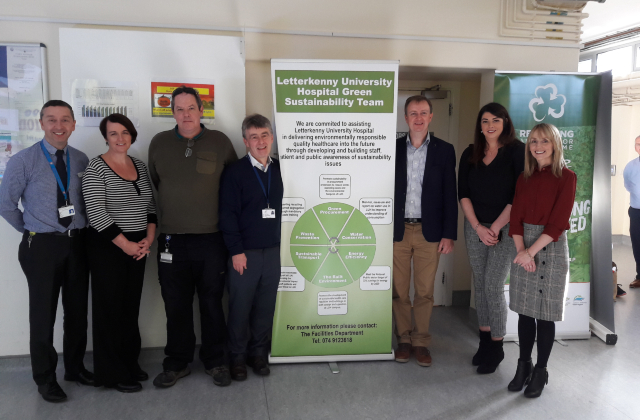 Letterkenny University Hospitals Green Sustainability Team in conjunction with HSE Estates recently held a Sustainability Awareness Day in the hospital.  
The main focus of the day was to encourage staff and members of the public to become aware of the energy being consumed both in the home and workplace.
The Green Sustainability Team also launched the "Switch Off & Save" campaign which is an initiative to encourage staff to switch off lighting and equipment when not in use. It also highlights that simple changes in behaviour can quickly lead to a significant reduction in energy use, while also reducing  the  impact on the environment.
Information on reducing food waste in the home and maximising recycling was also available on the day.
Sean Murphy, General Manger said, "The Awareness Day represented an opportunity for increasing awareness among staff and visitors in promoting energy and waste reductions in the hospital and extending this knowledge to their homes and communities."
The event was well attended by staff and various competitions were run during the day by the Sustainability Team. The team would like to thank the other participants on the day; including
·         Kingspan Retrofit
·         Donegal County Council
·         Calor Gas
·         Voice
Photo caption
Members of the LUH Sustainability Team pictured at the recent Sustainability Awareness Day. From left: Mark Duffy, Catering Manager; Jacqui Ghosh, Distribution Supervisor; Denis McKeague, Maintenance Foreman; Michael O'Brien, Energy Officer; Declan McGoldrick, Project/Energy Manager; Rachel Boylan, Radiology Services Manager and Maria McFadden, Facilities Office Manager.
The article above is specific to the following Saolta hospitals::
Letterkenny University Hospital (LUH)