You are here
Galway University Hospitals launch 'Planning your discharge from Hospital Booklet'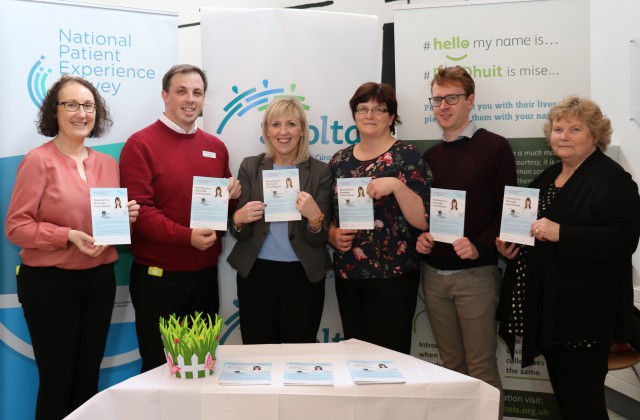 Galway University Hospitals recently launched their 'Planning your discharge from Hospital Booklet' which will support patients, their carer's and families to understand how their discharge or transfer from hospital will take place.
The need was identified to produce a booklet following the National Patient Experience Survey May 2017 results, where respondent's to the survey at GUH said they would like to receive more information in relation to their discharge from hospital.
James Geoghegan, PALS (Patient Advice and Liaison Service) explains, "Admission to and discharge from hospital can be a distressing and anxious time for patients, their families or carers, friends or relatives. The aim of this booklet is to provide information that will help patients think about what they need when they are ready to leave hospital or to enable them to leave hospital with adequate support services. The medical/surgical team will identify a date when they think the patient will be discharged and this date will be placed on the front of the booklet. It is important for patients to know that their discharge planning will start on admission and it is hoped that this booklet will assist the patient in becoming an active partner in identifying early on their admission supports that may be required on discharge."
A quality improvement programme was piloted in GUH and supported by GE Finnamore to improve the patient's journey through the hospital. The booklet was then produced by a multi-disciplinary working group to improve health information available to patients for their entire health care journey from admission to discharge.
A policy on the development of written patient information by the Health Literacy Committee at GUH was created and following this the working group requested the support of the health literacy committee to review and score the discharge booklet using the Health Literacy Checklist which has been adapted by the HSE Guidelines for Communication clearly using plain English with our patients and service users.
Some Key headings in the booklet include:
Going home supports
Planning your discharge checklist
Going home day checklist
Problem solving, common questions when discharged
Safety at home checklist.
Click here to view/download a copy of the booklet
Photo caption
Edel Kelly, Discharge Co-Ordinator; James Geoghegan, PALS (Patient Advice Liaison Service); Chris Kane, General Manager, GUH; Ger Kilkelly, PALS, (Patient Advice Liaison Service); Cathal O'Donnell, Patient Flow Improvement Project (PFIP) team and Breda Kilbane, Patient Council, Health Literacy, Committee.
The article above is specific to the following Saolta hospitals::
University Hospital Galway (UHG)