You are here
Galway University Hospitals implement Protected Mealtimes policy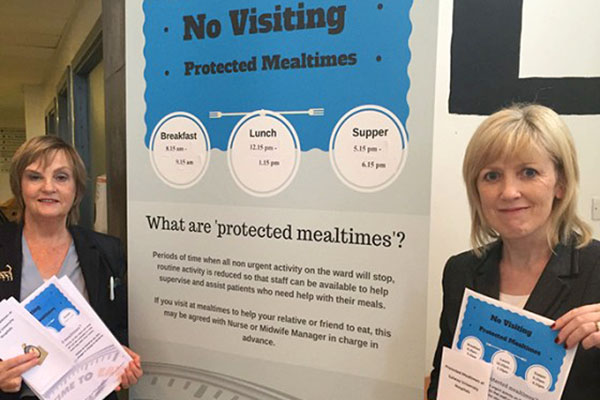 Galway University Hospitals has this week implemented a Protected Mealtimes policy. This means that during breakfast from 8.15am to 9.15am, lunch from 12.15pm to 1.15pm and tea-time 5.15pm to 6.15pm all non-urgent activities on the ward will stop. This will provide patients with the opportunity to have their meals without unnecessary interruption and facilitate hospital staff to assist, encourage and monitor patients during mealtime to ensure their food intake is appropriate. 
Commenting Chris Kane, General Manager Galway University Hospitals (GUH) said, "We are introducing this policy in GUH in order to improve the 'mealtime experience' for patients by allowing them to eat their meals without unavoidable disruption where possible. This will also enable us to further improve the nutritional care of patients by supporting and monitoring their food and fluid intake. We are asking members of the public to co-operate with this policy and try to avoid visiting or telephoning the ward during mealtimes unless absolutely necessary. In cases where relatives or friends visit to assist patients with their meal, this practice can continue in consultation with the nurse manager on the ward.  If families or patients have any questions or concerns in relation to this policy the ward manager will be happy to discuss with them."
Pictured are Hannah Kent, Nurse Practice Development Co-ordinator at Galway University Hospitals and Chris Kane Hospital Manager Galway University Hospitals.
The article above is specific to the following Saolta hospitals::
Merlin Park University Hospital (MPUH)
University Hospital Galway (UHG)