You are here
Free flu vaccine now available for at-risk groups and healthcare workers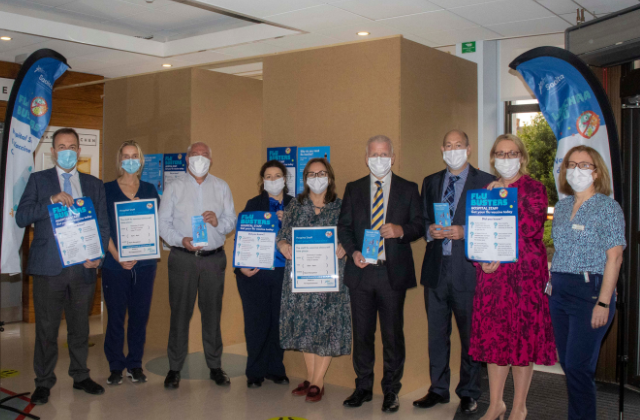 The HSE's winter vaccination gets underway with the roll out of the free flu vaccine to recommended groups.
Paul Hooton, Chief Director of Nursing and Midwifery at the Saolta Hospital Group, which includes Galway University Hospitals and Portiuncula University Hospitals said, "Based on the experience in Australia where there was an early surge of flu cases, we need to prepare for a more serious flu season compared with the past couple of years.
"COVID-19 is still circulating and it may be difficult to tell the symptoms of flu apart from COVID-19. Both the flu and COVID-19 can cause serious illness. This year, more than ever, I'm urging all those in the at-risk groups and all staff in our hospitals to get a flu vaccine and to get the vaccine early to ensure maximum protection. Similarly, anyone who is eligible for their next COVID-19 booster should avail of it as soon as they can.
"The flu and COVID-19 vaccines are safe and they help to protect ourselves and those around us. Flu can be transmitted from one day before you have symptoms and for 5 to 7 days after developing symptoms, during which time you could pass on the flu to your family, colleagues or patients. In addition, healthcare staff are up to 10 times more likely to get the flu compared with the general population and at least 20% of healthcare workers are infected with flu every year.
"Staff working in our hospitals can avail of the flu vaccine free of charge at work or from their GP or pharmacy."
The free flu vaccine is available and recommended for the following groups:
Healthcare workers
People aged 65 or over
Children aged 2 – 17
At any stage of pregnancy
People with certain long-term medical conditions that put them at increased risk from the complications of flu
For a full list of recommended groups visit hse.ie/flu
Notes to editor:
Additional Flu Vaccine Information:
This year, there are two different types of flu vaccine being offered to different groups:
Quadrivalent influenza vaccine (QIV) for at-risk groups including people who are 65 and over; are pregnant; are aged 18 to 64 and have a long term medical condition; or are a healthcare worker.
Nasal spray flu vaccine for children aged 2 to 17 years.
There are 2 brands of QIV vaccine available this year:
Quadrivalent Influenza Vaccine (split virion, inactivated) manufactured by Sanofi Pasteur
Influvac Tetra manufactured by Mylan
From October 17 the children's flu nasal spray vaccine will also be available free for all children aged 2 to 17 years from GPs and pharmacies.
The article above is specific to the following Saolta hospitals::