You are here
Endocrinologist at Galway University Hospitals awarded inaugural St Luke's Medal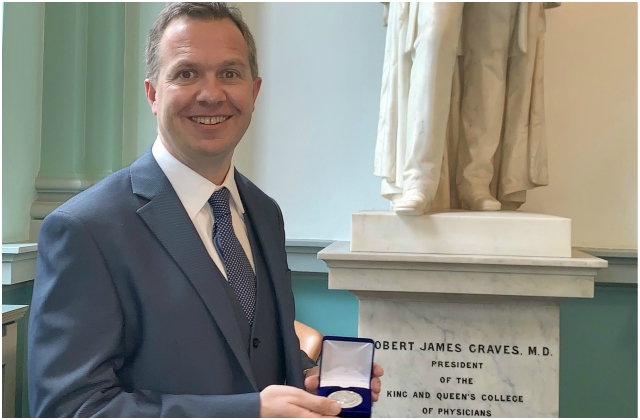 Professor Derek O'Keeffe, Consultant Endocrinologist at Galway University Hospitals and Professor of Medical Device Technology at NUI Galway was presented with the inaugural St Luke's medal by the Royal College of Physicians of Ireland (RCPI) at the annual St Luke's Symposium recently.
Prof O'Keeffe was chosen for the award because of his prior Telemedicine work with NASA and the recent successful Diabetes Drone mission, which delivered insulin by unmanned aerial vehicle to the Aran Islands and returned with a patient's blood sample. He has also done significant public outreach activities around his clinical-academic work including a TEDx Talk 'Digital Doctors: The Future of Medicine' and an RTÉ documentary 'Bittersweet – The Rise of Diabetes', which documents the lives of patients with diabetes and how technology is improving care.
As part of the St. Luke's award, Prof O'Keeffe delivered a lecture titled 'The Future of Medicine is the Patient' which focused on the following themes:
Digital Technology is ubiquitous in society but only recently has been adopted in medicine;
Wearable sensors coupled with the Internet of Things offer unprecedented health data gathering potential;
This big data coupled with artificial intelligence algorithms has the potential to have as powerful an impact on human health as antibiotics, vaccines and understanding hygiene;
Technology fundamentally empowers the patient who is at the digital heart of this new paradigm in medical care; and
Examples from Prof O'Keeffe's own research showing what this new future looks like.
The article above is specific to the following Saolta hospitals::
University Hospital Galway (UHG)