You are here
Double win for Mayo University Hospital at the Hospital Professional Awards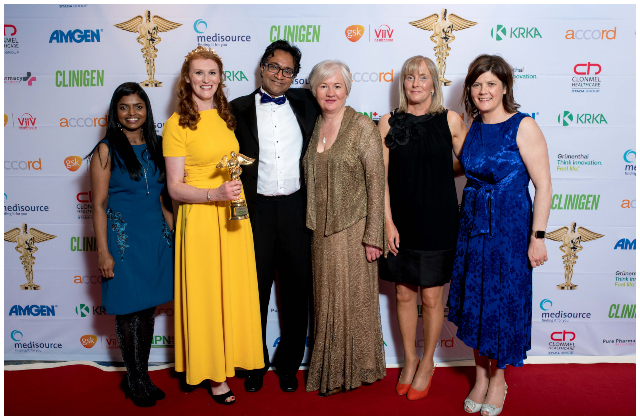 The Infection Prevention and Control Team at Mayo University Hospital (MUH) won two categories at the recent Hospital Professional Awards – the GSK ViiV Infectious Diseases Project of the Year Award and the Consultant-led Hospital Team of the Year Award.
The team were successful in the GSK ViiV Infectious Diseases Project of the Year for their work in improving patient safety in relation to CPE (an antibiotic resistant organism introduced into Ireland and spread in the healthcare system in recent years). The work by the team includes expediting the diagnosis of cases of CPE in the hospital by setting up processes to increase the number of patients being screened, monitoring and restricting the use of antibiotics that lead to antibiotic resistance and reducing the risk of CPE transmission by developing an alert card system for patients, which has since been rolled out to all other hospitals in the country.
The Infection Prevention and Control Team is led by Consultant Microbiologist Dr Shomik Sibartie and the team won the Consultant-led Hospital Team of the Year Award for their daily engagement with nursing, medical, surgical, pharmacy and laboratory staff to ensure optimum care for all patients in MUH. In addition the team has weekly, monthly and quarterly meetings with senior management and medical staff to implement the infection prevention and control objectives in the hospital.
Speaking of the double win for the Infection Prevention and Control Team, Dr Shomik Sibartie said, "Our team includes a microbiology trainee, antimicrobial pharmacists, infection control nurse specialists, a surveillance scientist and a clerical support and each member plays a vital role in enhancing patient care through team work. We have a great team spirit and we are all working hard together to excel in what we do for our patients. Our aim ultimately is to be a Centre of Excellence in Infection Prevention and Control.
"Infection Prevention and Control is the responsibility of every healthcare worker; our team provides support and guidance and it is thanks to the healthcare staff in MUH that we are making a difference. Our staff and consultants are all working very positively with our team, which is what is needed to progress.
"We provide training on hand hygiene to staff on a weekly basis and visit the wards in the hospital every day to make sure correct infection prevention and control procedures are in place. We organise awareness days for staff, the public and patients to increase knowledge about infection prevention in order to improve patient safety. We designed an effective recording system to allow us to measure antibiotic use and audit the quality of prescribing to ensure that we are optimising the use of antibiotics in the hospital in a way that is not contributing to antibiotic resistance.
"The patient is at the centre of all that we do. As a team we want to make a difference and we are motivated to improve outcomes for patients, to improve patient safety and to increase education around infection prevention."
Catherine Donohoe, hospital General Manager commented, "The Hospital Professional Awards recognise the achievements of individuals and teams and their dedication and innovation at improving the lives of patients across the country. The Infection Prevention and Control Team at Mayo University hospital were deserved winners and everyone in the hospital is extremely proud and delighted to see their achievements recognised in this way. It is evident in the hospital that this team is really effective in meeting the health care standards required of us as an acute hospital and for this I would like to thank them for this show of excellence in caring for our patients."
Photo Caption:
At the recent Hospital Professional Awards, from left: Dr Vilasini Vikneswaramoorthy, Microbiology NCHD; Marie Ronan, AMS pharmacist; Dr Shomik Sibartie, Consultant Microbiologist; Rose Cafferkey, AMS pharmacist; Grainne McHale, Infection Control Nurse; and Majella Sharkey, Surveillance Scientist.
The article above is specific to the following Saolta hospitals::
Mayo University Hospital (MUH)