You are here
Construction of new 50 bed ward at Portiuncula University Hospital progresses to next stage of development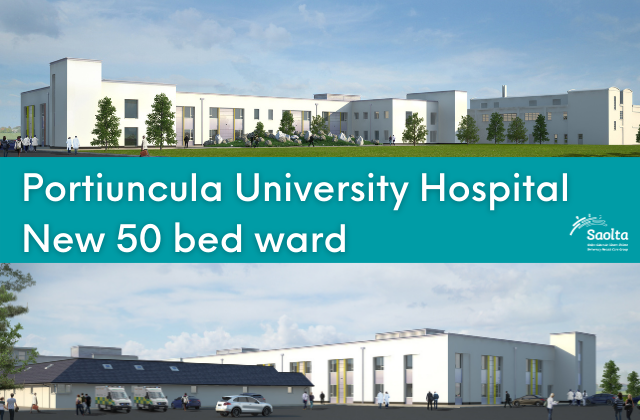 A major capital project for the region with a budget of 15 million
The development of a new 50 bed ward block at Portiuncula University Hospital has progressed to the next phase and a shortlisting process is ongoing to identify suitably qualified building contractors. Contractor Selection closes on 25th March and shortly afterwards tenders will be issued to the shortlisted panel. Alongside this contract, important construction works which will enable the development of the new building are nearing completion. The new ward block is part of major capital scheme for the Hospital and represents significant investment in healthcare infrastructure for the communities of East Galway, Roscommon, the Midlands and the Mid-West.
Commenting on the development, James Keane, General Manager of Portiuncula University Hospital said, "We are delighted to be progressing this essential project which, when complete, will greatly enhance the delivery of acute hospital care in the region."
"Our aim is that the enabling works to install the necessary infrastructure and utilities will be complete by the end of July. In terms of the main construction works, procurement for contractor services is ongoing and we aim to commence this phase of construction in August 2021. The total project budget is 15 million which will include a 4,038sqm building with a 50 bed unit, link corridor incorporating lift and storage area. Our target date for completion of the new building is Q1 2023".
Notes: Portiuncula University Hospital (PUH) is a Model 3 Hospital providing 24/7 acute surgery, medicine, critical care, emergency medicine and maternity and paediatric services. Oncology, oral and maxillofacial surgery, urology, dermatology, plastic and reconstructive surgery are also provided on-site by visiting consultants from GUH. The hospital's Paediatric service links with Our Lady's Children's Hospital, Crumlin for shared care arrangements in relation to oncology
Photo: Architects image for proposed Ward Block extension at Portiuncula University Hospital, Ballinasloe
The article above is specific to the following Saolta hospitals::
Portiuncula University Hospital (PUH)