You are here
The Children's Remembrance Day Committee in UHG launch their annual 'Sponsor a Christmas Tree Light'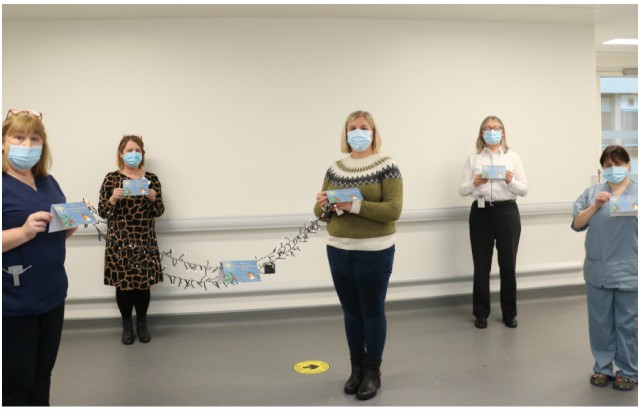 The Children's Remembrance Day Committee at University Hospital Galway (UHG) has launched 'Sponsor a Christmas Tree Light' 2020.
A light can be sponsored on the Christmas tree at University Hospital Galway in memory of the deceased or as a gift to a loved one.  These lights give families an opportunity to remember their loved ones in a special way over the festive season.  A triduum of Masses will be offered for all those for whom lights are sponsored which can be viewed on the Chapel webcam.
Joan Healy from the Children's Remembrance Day Committee said, "Our tree is unique in that the lights can be sponsored for both the living and the deceased.  The light may be sponsored for one person or indeed for a family.  This year's card was designed by Maeve Brady from Cavan.  Maeve's card depicts a holly bush and robin both traditionally associated with Christmas, illuminated by the light of the star.  Lights can be sponsored for €5 each and we will give you a card for each light sponsored.
"The year 2020 has been like no other with so much hardship and difficulty caused by COVID-19.  The Committee is hopeful that like the robin trying to bring warmth to the stable, the lights will reach out across the world connecting family and friends.  The card can be sent to loved ones letting them know that a light has been sponsored in memory of a deceased person or indeed as a gift to the living.  This year more than ever, with so many people having been unable to travel and visit home, we feel it is important to connect, letting them know that the lights are on, they are loved, missed and in our thoughts.
"The funds raised through the sale of the Christmas tree lights are used to fund and support the activities of the Children's Remembrance Day Committee throughout the year and any extra monies raised are used to enhance the services for bereaved families within the hospital.
"If you would like to sponsor a Christmas tree light, please contact Children's Remembrance Day Committee members Anne McKeown on 091 544823/087 968 4271, Helena Hanrahan on 087 771 6648 or Joan Healy on 087 963 8992 from Monday to Friday, between 9am and 5pm for more information."
Switching on the Christmas Tree Lights
On Sunday 13 December, RTÉ's Teresa Mannion will officially switch on the Christmas tree lights.  Due to social distancing requirements the event will be streamed live on: https://www.mcnmedia.tv/cameral/uhg-chapel.  In this way families can be together as they share the 'switch on' of the lights, irrespective of their physical distance.   We encourage you to send your cards early inviting the recipients to tune in for the 'switch on'.  The lights on the tree will remain until 06 January 2021.
Photo Caption:
The Children's Remembrance Day Committee at UHG launching 'Sponsor a Christmas Tree Light 2020' from left: Mary Quigley, Liaison member; Anne McKeown, Bereavement Liaison Officer; Joan Healy, Committee PRO;  Annette McCabe, Secretary; and Tracey Torpey, Liaison member.
The article above is specific to the following Saolta hospitals::
University Hospital Galway (UHG)