You are here
Cheque presentation to Oncology Patient Comfort Fund in UHG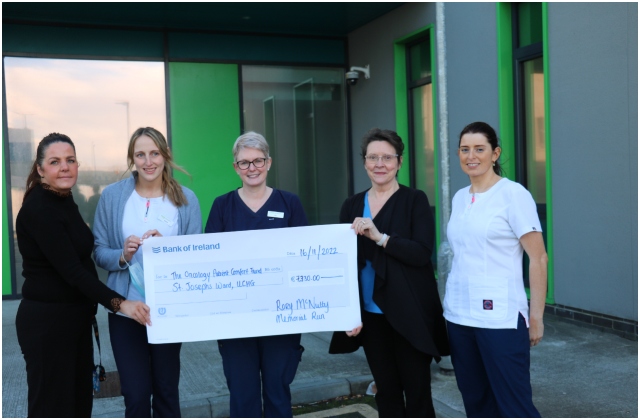 A very generous donation of €7,330 was recently made to the Oncology Patient Comfort Fund in University Hospital Galway (UHG) in memory of Rory McNulty from Droim Chaoin, Galway, who had been a patient in St Joseph's ward.
The cheque was presented to the Oncology Patient Comfort Fund, by Rory's partner Laura and Rory's mother Lynda. The money was raised by family and friends who made donations and took part in the Galway Bay Run 2022 for Rory.
The Family thanked staff and said "Rory talked about organising fundraising events in recognition of the amazing care and support he received. We would like to express our deepest thanks to all the team of nurses, doctors and each member of staff in UHG who provided unconditional care, support and treatment to Rory. We would like the funds raised to go towards the purchase of medical equipment to include a new ultrasound scanner and bladder scanner which will help patients, together with new reclining chairs for patients and family members on the ward."
Ellen Wiseman, Assistant Director of Nursing, Cancer Services UHG said "The Management and Staff in UHG are extremely grateful and would like to thank all those involved for the time and effort they put in to raise such a substantial sum of money for the Oncology Patient Comfort Fund. This donation will help us do even more to improve the patient's journey."
The article above is specific to the following Saolta hospitals::
University Hospital Galway (UHG)