You are here
Celebrating our incredible nursing mentors on International Day of the Nurse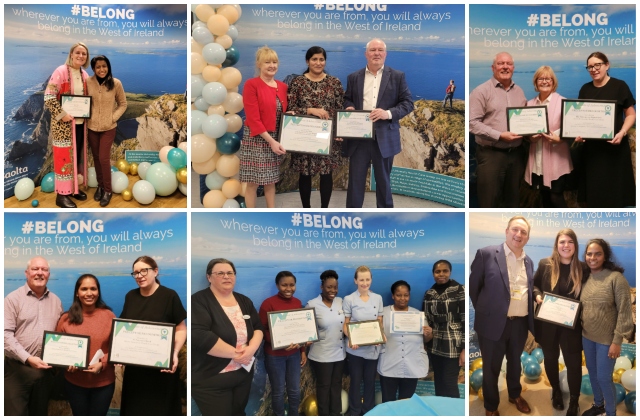 Saolta University Health Care Group is celebrating International Day of the Nurse today and recognising the contribution of our nursing mentors in supporting new colleagues.
The Saolta Preceptor Recognition Awards is an initiative to publicly acknowledge and thank the nurses who made such a huge impact on our new recruits.
Preceptorship is the term given to a structured, supported period of learning where experienced nurses take on the role of mentoring newly appointed nurses and helping them to adapt to their new positions. Since 2022 over 550 new overseas nurses and midwives joined the Saolta group and benefited from an adaptation and preceptorship programme.
Paul Hooton, Chief Director of Nursing and Midwifery said; "On International Day of the Nurse I want to personally take this opportunity to thank all our nurses and student nurses across the Saolta group for everything you do to help others each and every day. I am incredibly proud of all our nurses and what the Preceptor Recognition Awards has proven is that we are a diverse community of talented, caring professionals who lift up our colleagues and help each other thrive. 
Paul added "We know that adjusting to a new country, a new workplace and a new clinical environment can be challenging and it is crucial to have the right supports in place to help our new colleagues adapt. Mentorship is a great way to accelerate performance and productivity. Not just that, mentorship comes with the benefits of gaining different perspectives, improving self-confidence and increasing job satisfaction. On behalf of Saolta management team I want to congratulate all the winners for being such outstanding role models, they embody the values of leadership and compassion. I'm very proud of all our mentors and our new nursing colleagues who have engaged wholeheartedly with the programme."
All winners were presented with a voucher, a certificate and their award by Pau Hooton, Saolta Chief Director of Nursing and Midwifery at a recent awards ceremony.
Award winners 
Sligo University Hospital winner: Maeve Dolan 
In Sligo University Hospital Maeve Dolan staff nurse in Medical 5 in SUH was nominated for the award by her preceptee Jeethy Koottalaparambil Shaju. Jeethy said: "My preceptor Maeve was very good to me throughout my adaptation programme. It was my first experience to work in a ward in my nursing career but she helped me a lot. She is open minded and she has very good communication and clinical skills which a nurse needs in her profession. If we had any doubt she would explain it straight away. During the shift she delegates the work accordingly and supports everyone, even if in a busy schedule she will find time to make sure we are fine. She encourages us to learn new things."
Roscommon University Hospital winner: Gráinne Keaveney
In Roscommon University Hospital, Gráinne Keaveney was  honoured with a preceptorship award at the hospital.  Gráinne is a staff nurse in St Teresa's Ward and she was nominated by Jessica Okoro. Jessica said: "I nominated Gráinne because she made me so comfortable and supported me in everything I did. Since the first day of my adaptation she was very kind, she gave me positive and constructive feedback with loads of support on what I needed to learn. I am very grateful to her"
Galway University Hospitals winners: Therese Prendergast and Soumya Rajan
In Galway University Hospitals nurses Therese Prendergast and Soumya Rajan received the preceptorship awards. Therese Prendergast is a staff nurse in ED, she was nominated for the award by her preceptee Juben P. Baldeviso. Soumya Rajan is a staff nurse in St Pat's and was nominated by Dona Binoy and Athira Sukumaran. Juben P said: "I started my adaptation program with a nervous heart yet with an open mind. My preceptor Therese Prendergast made me feel so much more. She made me feel welcome and that I belonged to the unit. She is very enthusiastic when it comes to work and keeps you involved in the process. I can say she is very skilled with her practice which is backed up by years of experience here and abroad. She has a lot of energy. I am humbled to be taught by her, she is compassionate in dealing with patients and I have witnessed it personally every time I am with her. She will always walk the extra mile to deliver the best possible nursing care to her patients."
Dona Binoy said: "Soumya was incredibly supportive and I want to thank her for helping me in my new career in GUH. She has excellent teaching skills and has been a great support, she really deserves this award."
Letterkenny University Hospital winner: Manjumol Thomas
In LUH, nurse Manjumol Thomas won the preceptorship award, Manjumol is a staff nurse in the Short Stay Unit, she was nominated by her preceptee Pardon Chimyoka. Pardon said: "I nominated Manjumol for this award because she always showed a high level of maturity and patience throughout my six weeks of mentorship. She has demonstrated everything I needed to know be it theory or practical. Knowledge and patience are her trademarks and she is a natural leader. She was by my side on many occasions and she would let me lead and demonstrate to her what I was doing. I was given feedback during and after every shift and she has helped me immensely."
Mayo University Hospital winner: Chelsea Bourke
The preceptorship award in Mayo University Hospital went to nurse Chelsea Bourke. Chelsea is a staff nurse in D Ward, she was nominated for the award by her preceptee Shyona Shelly. Shyona said: "I nominated Chelsea for this award because she provided me with the perfect blend of education, supervision and support. With Chelsea's support I felt empowered to step outside of my comfort zone and was able to grow in my work with patients. I had an amazing role model and she is the type of care provider I aspire to be."
The article above is specific to the following Saolta hospitals::