You are here
Celebrating International Nurses Day at Mayo University Hospital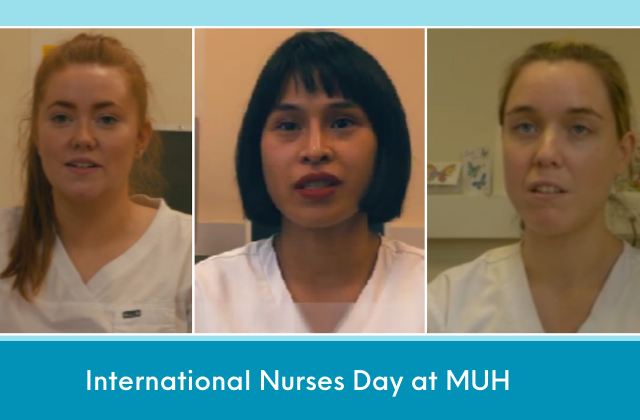 Each year International Nurses Day is celebrated on May 12th, the birthday of Florence Nightingale.
Mayo University Hospital is marking the day by acknowledging the tireless work and dedication that nursing staff show each and every day.
Pádraig O Luanaigh, Director of Nursing at Mayo University Hospital took the opportunity to thank the incredible nursing teams who have worked tirelessly throughout the COVID-19 pandemic.
"Our nurses are our best asset and I am grateful to work with such wonderful teams in Mayo University Hospital. I want to take this opportunity to thank each and every one of our nursing staff for all their dedication and commitment to their roles. I am proud of the difference nurses make, I value and appreciate my nursing colleagues and want to remind all nurses to acknowledge your achievements and celebrate one another, today and every day."
International Nurses Day recognises the critical role of nurses in delivering frontline healthcare and in shaping its future direction. Mayo University Hospital is encouraging anyone with an interest in nursing to choose Mayo. The hospital has released three videos of Mayo based nurses who reflect on their experience since joining MUH.
Caitriona Gillon is newly qualified staff nurse who trained in GMIT Castlebar and recently joined the A Ward in MUH. She said, "Once I qualified I knew that Mayo University Hospital was going to be top of the list for me. I had trained here, I was comfortable here, the staff are very supportive and we learned great skills in bedside manner and individualised patient care. One thing about MUH is that the staff and community are like one big family and it's a lovely place to work."
Sinéad Fahy is a coronary care nurse in MUH nurse who has returned to live and work in Mayo. She would encourage anyone considering a move home not to hesitate, she said, "I was in England and the opportunity came up to come back home, I applied for the job in CCU and I was successful at interview. Home is Mayo so it was nice to be able to come back home and work in the community."
Jill Sabenes trained in the Philippines, she came to Ireland in 2017 and after falling in love with Mayo she took up a post in Mayo University Hospital. "I chose Mayo University Hospital because I feel I will be given more opportunities to grow, not only as a person but also as nurse. I really want to be the best at what I do and so far, this hospital has been very good to me. I am very welcomed here and I am happy with where I am at. I love the Irish health care system, there is always something new every day and I love that they actually push you to be better at your profession."
Links to videos:
The article above is specific to the following Saolta hospitals::
Mayo University Hospital (MUH)