You are here
Cancer Care West supports new hospital based Psycho-oncology Service at University Hospital Galway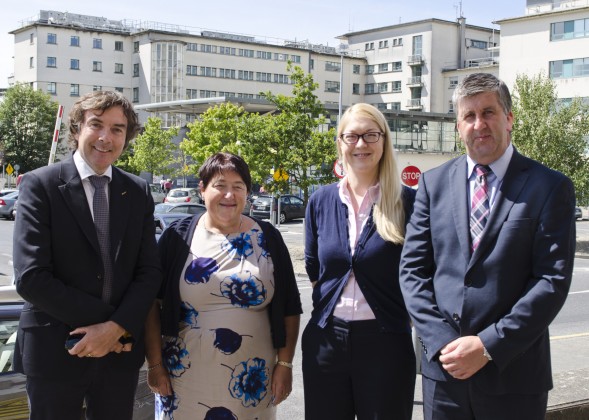 Cancer Care West has recently commenced an oncology psychological support service for in-patients being treated for cancer in University Hospital Galway. UHG is now only the third hospital in Ireland with a recognized psycho-oncology service, the other two being St James' and St Vincent's in Dublin.
Commenting Richard Flaherty, Chief Executive of Cancer Care West said, "The psycho-oncology service was established in 2007 and initially provided support to radiotherapy patients who were resident in Inis Aoibhinn. Over time, this service expanded to offer psychological support to all cancer patients and their families. In tandem with this development, the service was extended to in-patients at University Hospital Galway. Since 2009, 1,021 patients have been seen 2,235 times. Cancer patients also have a link to psycho-oncology and support services at Cancer Care West on discharge."
Maurice Power, CEO, Saolta University Health Care Group added, "We have worked closely with Cancer Care West for many years and they provide tremendous support to cancer patients being treated at UHG. They have been providing psychology support to our patients based in Inis Aoibhinn and at their centre in Westside for many years, however the extension to a hospital based service is hugely important for our patients. There is an excellent working relationship between psycho-oncology services and hospital staff, including consultants, clinical nurse specialists and ward staff. As well as supporting patients, which is the primary aim of this service, the psycho-oncology service has also developed a three day psycho-oncology training course for nurses, doctors and allied health professionals.  Since 2010, over 150 of our staff have attended these courses."
Dr. Helen Greally, Director of Psychology and Support Services Cancer Care West noted, "Many patients who receive a cancer diagnosis experience a range of complex emotions including numbness, shock, fear, anger, guilt or sadness. These emotions can be short-lived, or they can continue and worsen, leading to significant and severe depression or anxiety. The psycho- oncology service helps to respond to this distress, developing interventions to match patients' needs. The service also provides education and support to staff working directly with oncology patients to help them to respond to this distress by developing specific interventions.  It also facilitates continuity of care between hospital and community; when a patient has already been seen in the hospital, they have already formed a therapeutic relationship with the psychologist, thereby offering a unique opportunity to continue professional support in the community. The psycho-oncology service offers debriefing to ward staff on occasions when the staff have been through a particularly traumatic experience."
Professor Paul Donnellan, Clinical Lead in Medical Oncology, Saolta University Health Care Group added, "The psychological impact of a cancer diagnosis, and its treatment, has a profound impact on a patient's quality of life, and outcome. Dr Helen Greally and her Colleagues from Cancer Care West have been helping our patients and their families cope for many years now. I am delighted that their support is being formally recognized by the Saolta Group."
For further information on this service please contact Cancer Care West on 091 540040
The article above is specific to the following Saolta hospitals::
University Hospital Galway (UHG)