You are here
A bird at my window and other stories transform hospital bedsides of young patients at University Hospital Galway into miniature theatre spaces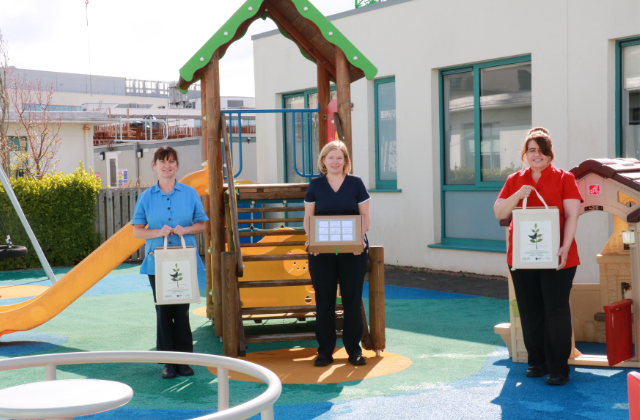 As part of and Arts and Health project for Galway 2020, artists Sarah Fuller and Manuela Corbari responded to the ever-changing challenges presented by COVID-19 and the needs of the paediatric setting by designing a bespoke shadowbox theatre which is being shared with children in paediatric units in the Saolta Group including University Hospital Galway (UHG) along with Mayo University Hospital, Portiuncula University Hospital, Sligo University Hospital and Letterkenny University Hospital.
The shadowbox theatre evolved from the artists' residency in UHG which began with participative art workshops where they supported young patients to make stop-motion animations and bedside performances incorporating puppetry, storytelling and shadow-play, to create immersive worlds and transform the clinical environment.
When COVID-19 meant that the artists were no longer able to work in the wards, they translated their experiences into a table top shadowbox theatre which is being shared with children in hospital for the month of April.
The shadowbox theatre can be brought home by the child after their hospital stay in a tote bag designed by the artists and each one is accompanied by a seed-paper postcard which can be planted in the ground when the children leave hospital. Together they will form a keepsake and a reminder of the more positive aspects of their hospital experience. This echoes the words of one parent who said of the performance phase of the project: "We'll bring nice memories from the hard time in hospital".
The limited edition shadowbox theatre is accompanied by a suite of recorded stories which can be accessed from the Saolta Arts website by going to saoltaarts.com. The artists have also made a free template which is available alongside their audio stories so that children can cut out characters from their stories and create their own shadowbox theatres at home.
Speaking about the project Margaret Flannery, Arts Director of Saolta Arts said, "A bird at my window and other stories is an exciting opportunity to share the Galway 2020 cultural experience widely while also helping Saolta Arts make important steps in establishing an Arts and Health programme at each hospital site, creating future opportunities for patients, staff and artists. I envisage it will help our colleagues in recognising the value of Arts and Health creating long term benefits to the health, wellbeing and cultural access for the whole hospital community."
Photo details:
Staff from the Paediatric Department at University Hospital Galway with shadowbox theatres and accompanying tote bags which are being shared with children in hospital during April as part of an Arts and Health project for Galway 2020 called A bird at my window and other stories. From left: Mary Scally, Clinical Nurse Manager 1; Cecily Cassidy, Clinical Nurse Manager 2; and Lisa Porter, Play Specialist.
Notes to editors:
A bird at my window and other stories is part of an overall programme of exhibitions and specially commissioned artworks for Galway 2020 European Capital of Culture titled The Deepest Shade of Green, which explores the importance of connecting hospitals with the natural world and of listening to and learning from those who use them.
A number of the shadowbox theatres are also being gifted to children in other paediatric units across Ireland including hospitals in the Children Health Ireland Group.
The article above is specific to the following Saolta hospitals::