You are here
Awards Success on the Double for Sligo University Hospital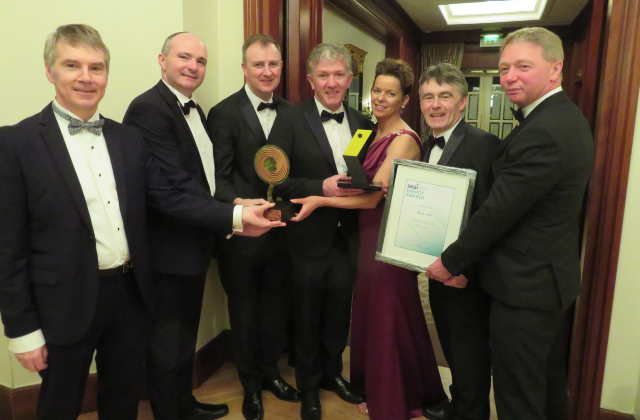 Sligo University Hospital won the Public Sector Award in the SEAI Sustainability Energy Awards which took place last night in Dublin. The award recognised the efforts by the hospital, with support from HSE North West Estates, to focus on energy reduction and energy saving initiatives.
Also last night, the hospital was awarded winner of the Waste Prevention Business Award at the Pakman Awards - previously the Repak Recycling Awards - which recognise excellence in waste management and recycling among businesses, organisations and community groups in Ireland.
Grainne McCann, General Manager at Sligo University Hospital said, "We are delighted to win both the SEAI Sustainable Energy Public Sector Award and the Pakman Waste Prevention Business Award.
"We have a very active Green Campus Committee who have worked on many projects to reduce energy consumption and to minimise waste at the hospital. The types of sustainability initiatives introduced at the hospital to reduce energy consumption included a lighting replacement programme, upgrading heating pumps, replacing the main hospital boiler heating plant and energy savings campaigns such as 'switch off' campaigns across the hospital. 
"The waste prevention initiatives at the hospital have focused on minimising waste, promoting use of keep-safe cups, reducing single use cups/containers, reducing land fill waste by education and awareness on the correct segregation of waste, promoting lean management initiatives and reuse initiatives. Comparing the first half of 2018 with 2017, our landfill waste has reduced by 19% and our recycling waste has reduced by 23%.
"However, it is only with the support of all the staff in the hospital and indeed our patients and visitors too, that we can actually make the difference. These awards recognise the efforts of all involved and will keep us motivated to continue on our sustainability journey".
Photo Caption:
Sligo University Hospital won the Public Sector SEAI Sustainability Energy Award and the Pakman Waste Prevention Business Award. Representing the hospital at the Awards in Dublin on 25 October from left: Domhnall McLoughlin, Deputy General Manager; Conor Mc Loughlin, Maintenance Manager; Declan McGoldrick, Project Manager, HSE Estates; Gary Streete, Waste Management Co-ordinator; Patricia Lee, Service Manager; Michael O'Brien, Energy Officer, HSE Estates; and Fergal McGirl, HSE Estates.
The article above is specific to the following Saolta hospitals::
Sligo University Hospital (SUH)