You are here
Artist Tory Irvine officially launches art work 'T H R I V E' on the Arts Corridor of UHG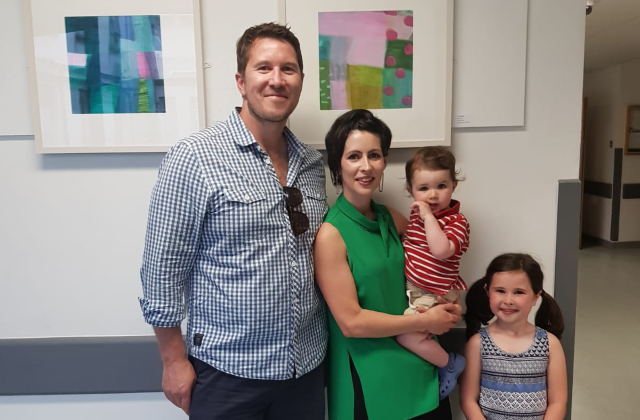 'T H R I V E' by artist Tory Irvine was officially launched on the Arts Corridor of University Hospital Galway at 6 pm on Thursday June 7th. Irvine is an abstract, contemporary artist interested in emotional health. The exhibition features a series of paintings, which are vibrant, expressive & colourful. Working with acrylics on paper, Irvine layers washes and blocks of colour with a spontaneous energy. 
Inspired by the process of creating, Irvine comments that 'my work is intrinsically linked to my own self-care and wellbeing. The result is a body of work that, while portraying a unique perspective, is relatable and relevant to modern life. My hope is that my original paintings have a positive and uplifting effect on the onlooker. Art has the power to encourage reflection and promote emotional health which is a critical component of thriving communities'.
Margaret Flannery, Arts Director said, 'Galway University Hospitals Arts Trust is delighted to welcome this exhibition to UHG. 'T H R I V E', by artist Tory Irvine has a calming effect through its contemporary form and use of colour and is already being positively received by patients and staff'.
For more information on Tory Irvine visit https://www.toryirvineart.com/p-o-r-t-f-o-l-i-o.
For information regarding the arts programme contact Galway University Hospital Arts Trust at 091-544979 or email guhartstrust@hse.ie
Photo Caption
Pictured at the official launch of 'T H R I V E' by artist Tory Irvine in UHG, were Barry McCann, Husband; Tory Irvine, Artist; Teddy McCann, Son; Elsie Belle McCann, Daughter.
The article above is specific to the following Saolta hospitals::
University Hospital Galway (UHG)