You are here
All Ireland Maternity and Midwifery Award for Sligo University Hospital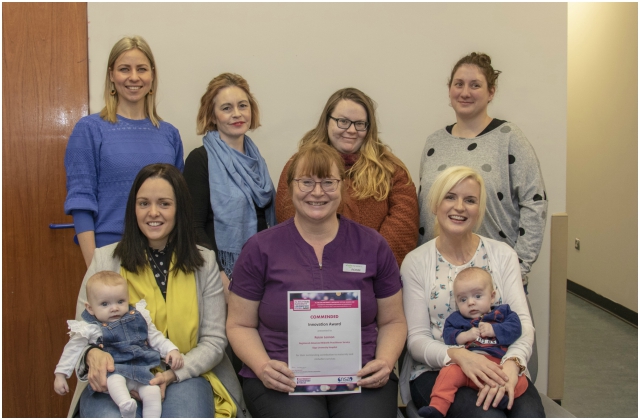 Roisin Lennon, the Registered Advanced Midwife Practitioner with the Maternity Services at Sligo University Hospital received an Innovation Award commendation at the recent All Ireland Maternity and Midwifery Festival Awards.
The Awards recognise outstanding achievement and commitment by midwifery and maternity staff and Roisin was nominated by the women she cares for in her clinic for her innovative practice and commitment above and beyond the call of duty.
Speaking of her role as a Registered Advanced Midwife Practitioner, Roisin said, "In 2017 I started to run my clinic in the hospital and since then I have extended the service to include outreach clinics in Carrick on Shannon and more recently, Manorhamilton.
"I was delighted to be nominated for this award by the women that I have taken care of in my clinic. I am really privileged to be part of so many women's and families' pregnancy journeys. I think the continuity of care and personalised support that an Advanced Midwife Practitioner-led clinic can offer is really important to women and because I work as part of a multidisciplinary team, I can refer the women to other services they may need during their pregnancy."
Juliana Henry, Director of Midwifery at Sligo University Hospital said, "Roisin has a specialised role as an autonomous practitioner which involves caring for a specified caseload of women from the very first hospital visit to the postnatal period. Women are seen by Roisin on scheduled clinic visits either in the hospital or at one of the outreach clinics, if convenient to where they live, and she continues to provide support with drop-in feeding clinics 3 afternoons a week to all women after the babies are born."
Grainne McCann, General Manager, Sligo University Hospital added, "We are delighted that Roisin's work has been recognised in this way, by the people who matter the most, the women she takes care of so well. There are only 14 Advanced Midwife Practitioners in the Country and we are very fortunate to have Roisin working with us here in Sligo."
Photo caption:
Back row from left: Arina Suld, Emmelena Cullen, Rebecca Norris and Clotilde Rambaud. Seated from left: Nicola Greene with baby Melanie, Roisin Lennon and Laura Marren with baby Senan.
The article above is specific to the following Saolta hospitals::
Sligo University Hospital (SUH)