You are here
Afternoon Tea in the Garden to benefit the arts programme at GUH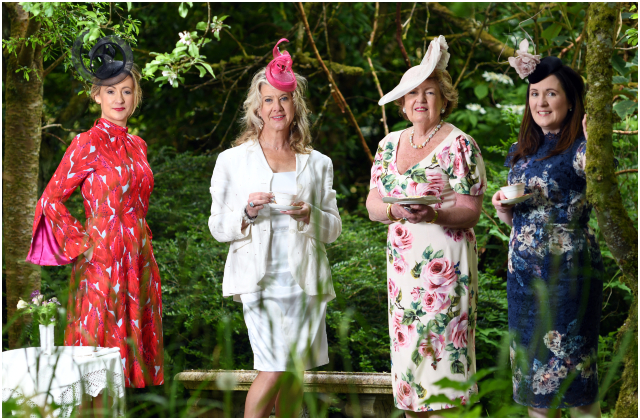 Afternoon Tea is being held at the home of Phyllis MacNamara on Sunday June 24th from 3-6pm to benefit the arts programme at Galway University Hospitals. It is a ticketed event with a maximum capacity of 100 people at a cost of €50 per person. On arrival guests will be offered a refreshing glass of homemade lemonade or prosecco. Guests are free to wander the beautiful surroundings with the garden being in full bloom. A delicious consortium of afternoon treats will be served consisting of gourmet sandwiches and delicate desserts. Music by renowned singer and piano man Seán De Burca will complement the event to create a vibrant atmosphere. The prize for the most elegant lady is a bespoke, original design sponsored by Emily-Jean, Milliner & Jewellery Designer. Emily-Jean, acclaimed Milliner based in Moycullen will be choosing the winner on the day, she will have a keen eye out for the most elegant and stylish lady and an equally sought after prize will be awarded for the best-dressed man.
Hazel Hendy, Chairperson 'The arts programme is an integral part of the hospital community and our event is an excellent opportunity to learn more about it. Involvement with the arts can have a lasting and transforming effect on many aspects of people's lives. There will be all the usual afternoon tea delights, wonderful music and a fantastic atmosphere. Help us celebrate the arts programme and don't forget your hat!'
Phyllis MacNamara, board member comments 'We want to take this opportunity to take stock of how far the arts programme has come and to look towards the future and how we can continue to support the healing process and enhance the well-being of patients, staff and visitors. The garden will be in full bloom and we have worked hard to make the event a special day.'
Galway University Hospitals Arts Trust was established in 2007 to provide an arts programme for the hospital community. The organisation runs the west of Ireland's leading Arts and Health programme as a means of improving the hospital experience for patients, staff and visitors. Galway University Hospitals Arts Trust believes access to the arts promotes well-being and enhances the hospital environment, providing a multi-disciplinary programme of events and activities, including exhibitions, participative workshops, music, theatre and poetry. The programme will be rebranding to Saolta Arts in the coming months and this beckons positivity for the future of the arts programme in Galway hospitals and the wider Saolta Hospital Group.
Tickets can be purchased from the Arts office in the hospital. Call 091-544979 or email guhartstrust@hse.ie with an inquiry. Tickets can also be purchased from Phyllis MacNamara, Proprietor, Cobwebs, 7 Quay Lane, Galway.
Photo Caption
Emily-Jean, milliner; Hazel Hendy, chairperson, Galway University Hospitals Arts Trust; Phyllis MacNamara, board member, Galway University Hospitals Arts Trust and Margaret Flannery, Arts Director
The article above is specific to the following Saolta hospitals::
University Hospital Galway (UHG)