You are here
1000th patient at Merlin Park Virtual Orthopaedic Clinic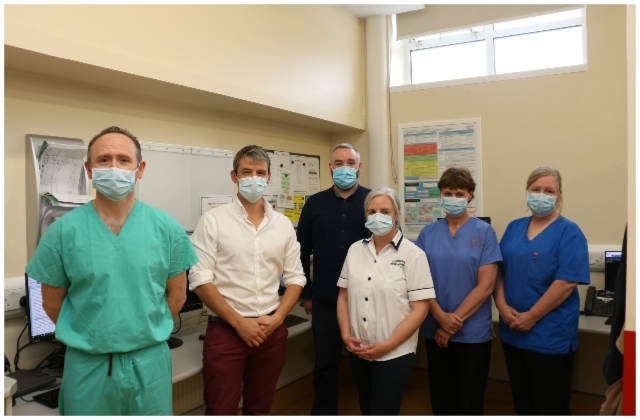 A new virtual orthopaedic clinic in Merlin Park University Hospital saw 1,000 patients within the first 10 weeks of operation. The consultant-led clinic replaces face-to-face appointments for patients with fractures that don't require surgery.
Mr Odhrán Murray, Consultant Orthopaedic Surgeon and Virtual Clinic Lead said, "We had started looking at making changes to the way we run our outpatient fracture clinics at the start of the year, to identify ways to make the patient experience easier by reducing travel to appointments.
"The pandemic added an urgency to our plans. In a very short space of time we needed to change our practice in order to reduce the numbers attending appointments for social distancing reasons and to keep our patients and staff safe.
"We planned the introduction of the virtual clinic very carefully. In our outpatient clinics we see patients from all over County Galway along with patients from Ballinasloe, Roscommon and Ennis hospitals. This meant that in addition to changing our way of working, we had to introduce the changes to our colleagues in the other hospitals also.
"Traditionally patients with a broken bone went to the Emergency Department or Injury Unit to have a temporary cast applied and the following day attended our fracture clinic. Now patients who don't need to be admitted for surgery or other complex cases, have a splint applied where possible when they first visit the hospital. The following day, myself or one of my consultant colleagues review their case in a virtual clinic with nursing and physiotherapy input. Following the consultant review all patients are contacted directly by the physiotherapist or nursing team to discuss their care plan. In this way, 50% of our patients are managed without needing to attend the orthopaedic outpatient clinic. Some patients are followed up with physiotherapy services locally or with a review in the plaster room, as required.
"The reduced number of patients attending clinics is making the clinics safer and more efficient for those who have to attend in person. At any stage during their recovery we can switch the patients from virtual clinics to face-to-face clinics, as the need arises.
"Over the course of a year we estimate that by introducing our virtual clinics around 5,200 patient journeys will be saved."
Sharon O'Connor, Clinical Specialist Physiotherapist in the virtual clinics added, "In addition to the fantastic buy-in from all our Orthopaedic and ED colleagues in Galway, Roscommon, Ennis and Portiuncula the key to success of this clinic is support from the administration team and the technology that underpins it. We have worked with our colleagues in IT to develop systems that allow us to automatically generate letters to the patients' GPs and these are emailed to GPs directly from clinic. This saves time previously spent on dictating, typing, printing and posting letters and GPs are updated immediately on their patients' care rather than waiting for the post. The new system also lets us audit our activity at the touch of a button which saves us the hours that we would have spent pulling notes in the past."
"The feedback on the virtual clinics has been very positive. One patient said 'This service is great. I feel I have gotten great care and I didn't have to get my daughter to take the day off work to bring me to Merlin Park'. We are very happy that the virtual clinics have been so well-received by patients and we will continue to look at ways to improve our patients' experience of our service."
Chris Kane, General Manager, Galway University Hospitals said, "The COVID-19 pandemic has had a huge impact on how we deliver patient services in Merlin Park and in University Hospital Galway. The need to reduce footfall in the hospitals and safely deliver patient care required innovative solutions. The new virtual clinic for the orthopaedic outpatient service demonstrates innovation, collaboration between hospitals and tangible benefits our patients."
Note the Environmental benefits of saving 5,200 patient journeys per year:
For a small modern economical car (2020 Ford Fiesta, 1.0L EcoBoost) this equates to 50 Tonnes of CO2 which is equivalent to 11 passenger vehicles being driven for one year or providing energy for 6 homes or charging 6.4 million smart phones.
For an old, large, inefficient vehicle such as the 2000 Range Rover 4.6 V8, the CO2 equivalent saving rises to 30 vehicle journeys/year; providing energy for 16 homes/year or charging 17.5 million smart phones/year.
Photo Caption:
Galway University Hospitals' Orthopaedic Department staff involved in developing a Virtual Orthopaedic Clinic which saw 1000 patients in the first 10 weeks, from left: Mr Fintan Shannon, Consultant Orthopaedic Surgeon; Mr Odhrán Murray, Consultant Orthopaedic Surgeon and Virtual Clinic Lead; Peter O'Reilly, Evolve Developer, IS Department; Sharon O'Connor, Clinical Specialist Physiotherapist; Mary Fanning; and Fionnuala Heverin.
The article above is specific to the following Saolta hospitals::
Merlin Park University Hospital (MPUH)