You are here
"Encounters" Patients and Staff in Irish Hospitals receive a 'Menu of Poems' for Poetry Day Ireland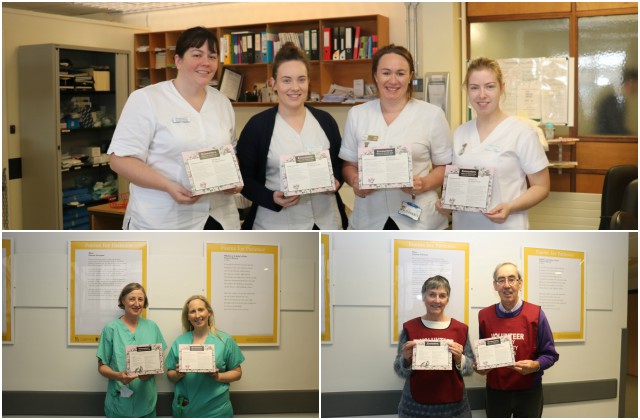 "Encounters" PATIENTS AND STAFF IN IRISH HOSPITALS RECEIVE A 'MENU OF POEMS' FOR POETRY DAY IRELAND
To celebrate Poetry Day Ireland on Thursday 26 April 2018, a Menu of Poems titled 'Encounters' and edited by Michael Coady was distributed throughout Irish hospital wards, waiting rooms and other healthcare settings for patients, visitors and staff to enjoy. The poetry was selected by poet Michael Coady who visited Galway for the Cúirt International Festival of Literature, where he read at an event and launched the Poems for Patience Series at University Hospital Galway.
Menu of Poems takes the form of a short anthology of poetry which is distributed annually to healthcare users in a range of healthcare settings. Produced by Galway University Hospitals Arts Trust in collaboration with Arts and Health Co-ordinators Ireland, Poetry Ireland and the HSE, over 10,000 people will receive the 2018 Menu over the coming days. The anthology includes poems by Paul Durcan, Tony, Curtis and Francis Harvey. The Menu is also available to anyone working in a healthcare facility to print and distribute in their own locations.
Please download 'Menu of Poems 2018' here
Since its conception in 2009, Menu of Poems has been a positive development in the lives of both patients and those who work in healthcare settings across Ireland. The poetry is circulated on meal trays in hospitals and participating healthcare providers often organise readings and workshops for Poetry Day Ireland.
Michael Coady, Poet and Editor of Encounters said: 'Poetry may ask deep questions, directly or by indirection, employing literary devices of verbal imagery and rhythm. For the most part it is an art of compression, reaching towards enchantment, mystery and insight'.
Maureen Kennelly, Director of Poetry Ireland, said: 'Poetry Ireland is delighted to be involved with the Menu of Poems project once again this year and to partner on an initiative that brings poetry to people's bedside.  Our mission is to connect people with poetry and make it part of their everyday life.'
Margaret Flannery, Arts Director at Galway University Hospitals Arts Trust, said: 'Menu of Poems is a simple project with a big impact.  Each year we have the opportunity to co-ordinate a project for patients in our hospitals where we all get to discover and experience poetry. The project continues to grow annually; we plan to work with our partners to insure all patients in hospital on Poetry Day 2019 will receive a Menu.'
The Menu was well received throughout the country with a patient from Galway University Hospital commenting: 'The poem in the x-ray department is one my favourites and to bring poetry to a person's bedside is wonderful, what a lovely project.'
A Doctor from Galway University Hospital commented 'On my way home after a busy day I often stop to take a minute to read a poem on the wall, this project means I have poetry at my desk to enjoy!'.
The following hospitals and centres participated in Menu of Poems 2018: Arts for Health Partnership Programme, West Cork; Arts in Health at Cork University Hospital; Beehouse Arts; Galway, Mayo Roscommon Community Health Office; Galway University Hospitals Arts Trust and Saolta Health Care Group incorporating University Hospital Galway, Merlin Park University Hospital, Mayo University Hospital, Portiuncula University Hospital, Roscommon University Hospital, Sligo University Hospital and Letterkenny University Hospital; Kildare County Council Arts and Health Programme; Naas General Hospital Arts Committee; National Centre for Arts and Health, Tallaght; South Tipperary General Hospital; South Tipperary Mental Health Services; University Limerick Hospitals Group incorporating University Hospital Limerick, Limerick Maternity Hospital, Ennis Hospital, Nenagh Hospital and Croom Hospital; Clare, Limerick and Tipperary Community Health Office, Waterford Healing Arts Trust; West Cork Mental Health Services Arts and Health Programme. 
For more information on the Menu of Poems project and if your hospital or healthcare facility would like to take part in 2019, email guhartstrust@hse.ie
For information on Poetry Day Ireland visit http://www.poetryireland.ie/ 
For more information on Poems for Patience and the Cúirt International Festival of Literature visit: https://www.cuirt.ie/wp-content/uploads/2018/03/Cúirt-2018-Programme.pdf
The article above is specific to the following Saolta hospitals::
University Hospital Galway (UHG)