You are here
'Thinking of You' introduced at Galway University Hospitals to keep patients and families connected during COVID-19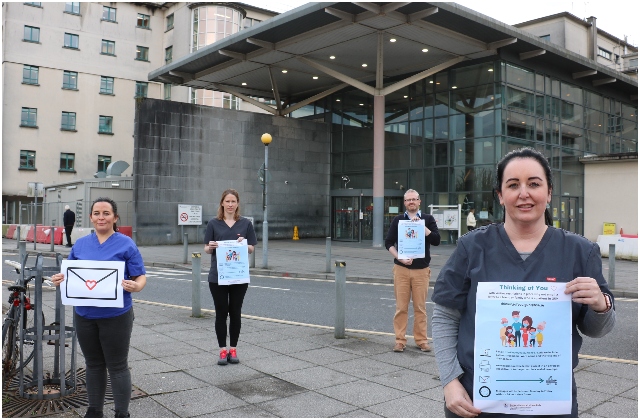 The Social Work Department at Galway University Hospitals are inviting family and friends of patients in the hospital to email a letter, photo which will be printed, popped into an envelope and delivered to their loved one in hospital.
Commenting Geraldine McEleney, Senior Medical Social Worker said, "If families or friends of patients would like to take part in 'Thinking of you', we are asking them to email thinkingofyou.guh@hse.ie and include the patient's full name, first line of their home address and ward name (if known) in the subject line.  We will print out the letter, place it in an envelope and deliver it to the patient sealed within 24 hours, Monday to Friday."
Chris Kane, General Manager added, "We know how difficult it is for patients to be in hospital without visitors, especially at this time. We hope the 'Thinking of You' initiative will be a good way for people to keep in touch with their family and friends during their time at Galway University Hospitals.  Even though most of our patients have mobile phones to keep in contact, a letter or email printed out and delivered to the ward will always be a wonderful surprise and would no doubt be read and re-read countless times by a patient giving the patient a feeling of connection to those they are missing."
Photo caption:
'Thinking of You' initiative which was introduced at Galway University Hospitals to offer families and friends the opportunity to stay connected to their loved ones while they are in hospital during COVID-19.  From left, Miriam Conry, Medical Social Worker; Catherine Scully, Medical Social Worker; Donal Gill, Principal Social Worker; Geraldine McEleney, Senior Medical Social Worker.
The article above is specific to the following Saolta hospitals::
University Hospital Galway (UHG)