You are here
'Colours of my Life' by Céim Eile artist Catherine Cooley at UHG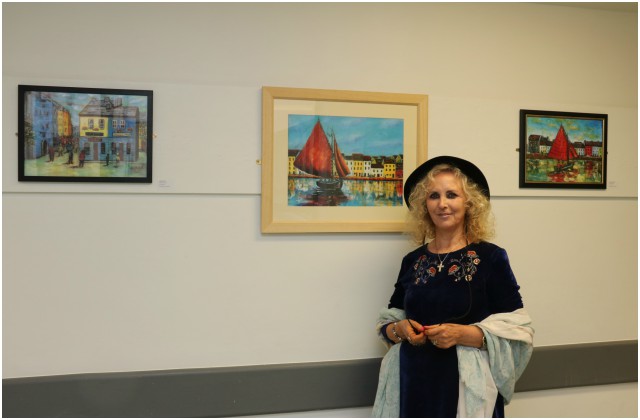 Catherine Cooley is a self- taught artist who is inspired by the works of Yeats and Van Gogh. Her art is notable for its rough beauty, emotional honesty and bold colours. Cooley takes her inspiration from Galway City life, the surrounding landscapes and rural farming childhood memories.
Cooley notes that her 'painting and artwork has helped her on the road to recovery from mental illness, giving her something to focus on when things were difficult'. Cooley attends Céim Eile Day Centre where she is encouraged and supported in her recovery. Through her art, Cooley has made many friends where the group shares their experiences and thoughts on their own creations.
Cooley has had small solo exhibitions and has been part of group exhibitions with Céim Eile Day Centre. Cooley comments that all this has 'helped increase her confidence, self-esteem and has created success for her in life' going on to say that 'without art and the encouragement to continue with it, her present mental wellbeing would not be achieved'.
Galway University Hospitals Arts Trusts supports the healing process and enhances the well-being of patients, staff and visitors in University Hospital Galway and Merlin Park University Hospital through the integration of the arts into these health care environments. The work of the trust is founded on the belief that access to the arts promotes positive health. One of the objectives is to increase levels of access and participation in the arts, thus enriching the hospital community and making art more accessible to a wide variety of people.  Involvement with the arts can have a lasting and transforming effect on many aspects of people's lives. The arts can act as a tool by which we engage with the world, view ourselves and provoke thought. 
The exhibition will run until Friday August 31st. Many of the artworks are for sale. Enquiries to Margaret Flannery, Arts Director, Galway University Hospital Arts Trust, 091 544979 or guhartstrust@hse.ie
About the organisation:
Galway University Hospitals Arts Trust run the west of Ireland's leading Arts and Health programme as a means of improving the hospital experience for patients, staff and visitors.  The arts trust believes access to the arts promotes well-being and enhances the hospital environment.  We provide a multi-disciplinary programme of events and activities, including exhibitions, participative workshops, music, theatre and poetry. GUHAT is a registered Charity (CHY17964).
Photo caption
Pictured Artist Catherine Cooley at University Hospital Galway Arts Corridor.
The article above is specific to the following Saolta hospitals::
University Hospital Galway (UHG)