You are here
Portiuncula Hospital Ballinasloe is now a smoke free campus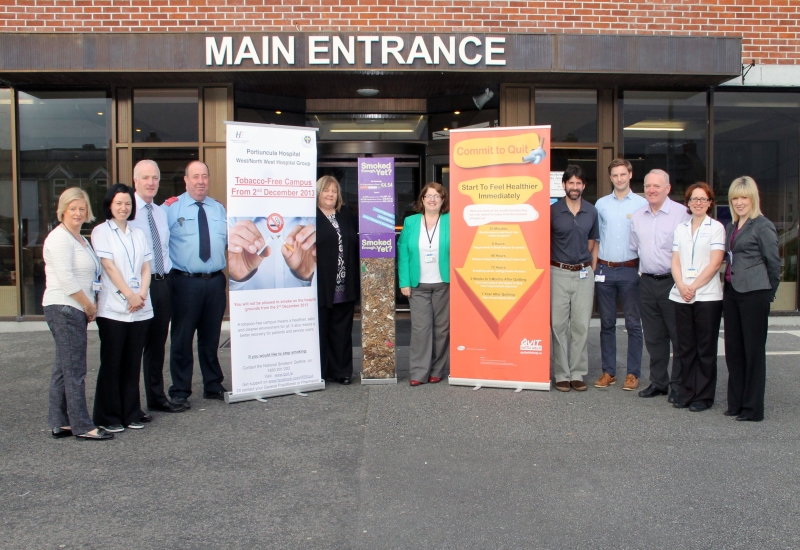 Portiuncula Hospital Ballinasloe (PHB) introduced a smoke free campus policy on Monday 02 December.
 
It is no longer possible to smoke anywhere on the hospital grounds, for example entrances, doorways, walkways, internal roads, car parks, cars, bicycle shelters etc.
 
As a leading healthcare provider, PHB is committed to reducing the use of tobacco and its harmful health effects. PHB aims to create a healthier, smoke free, clean environment for its patients, staff and visitors.
 
The policy applies to all staff, patients, visitors, contractors and anyone who enters the hospital buildings / grounds.
 
Dr Joel Kavanagh, Consultant Physician at the Acute Medical Assessment Unit at PHB says, "Everyone understands the health implications of smoking – emphysema, heart disease, lung cancers.  But these are mainly illnesses of people over 50 years of age when chronic illness strikes. 
 
"We need to focus on reducing youth smoking, the teenagers and those in their early twenties as this will reap benefits for the population and the Irish health system several years down the road with reductions in those previous mentioned diseases.
 
"PHB offers support for patients who are current smokers, young and old, to get professional advice in proven ways to break the nicotine habit."
 
Chris Kane, A/General Manager says, "The Smoke Free Campus policy will lead to a better health outcome for patients by treating tobacco addiction as a care issue and we are actively promoting smoking cessation to support patients to quit.
 
"The introduction of a Smoke Free Campus policy will take time but the success of this type of policy in other hospitals along with the goodwill of our patients and staff indicates that the majority of people support the policy.
 
"We are able to grant exemptions to the policy for patients in certain circumstances with the input from their Consultant. In this way we may make exceptions for the most vulnerable patients while also encouraging all other patients to adopt healthier tobacco-free lifestyles in order to decrease the incidence of smoking related disease. Providing a smoke free environment sends a clear message that this hospital is committed to protecting and promoting the health of our patients, staff and all who visit Portiuncula Hospital."
 
Photo Details:
At the launch of the Smoke Free Campus at Portiuncula Hospital Ballinasloe on Monday 02 December, from left: Máire Kelly, Clinical Support Services Director; Lizzy O'Sullivan, Dietitian; Denis Minton, Director of Resources; Peter Finnerty, Porter/Security; Margaret Casey, Director of Nursing and Midwifery; Marita Fogarty, Assistant Director of Nursing/Deputy Director of Care; Dr Joel Kavanagh, Consultant Physician AMAU; Dr Killian Hurst; Dr Michael Brassil, Hospital Clinical Director; Maeve Doherty, Dietitian Manager and Chris Kane, A/General Manager.