You are here
GUH leads international training on revolutionary new treatment for high blood pressure / stroke prevention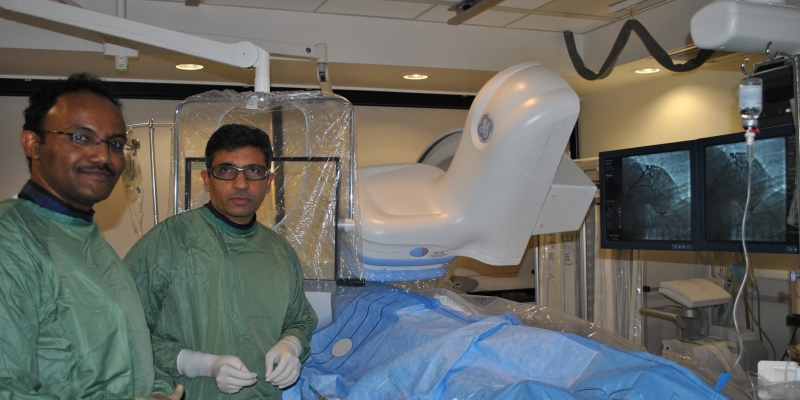 Galway University Hospitals will become the first hospital in the UK and Ireland to provide training on a new treatment for high blood pressure called renal artery denervation.
 
Dr Faisal Sharif, Consultant Cardiologist, GUH who pioneered the use of the treatment at GUH in 2011 said, "High blood pressure is a serious issue for a growing number of people and approximately 10% of patients who have high blood pressure unfortunately do not respond to medication, which until now has been the only form of treatment available.
 
"Two years ago the team here at GUH introduced renal artery denervation to treat these patients. The procedure involves using low-power radiofrequency energy to deactivate the nerves in the kidneys which leads to a significant and sustained reduction in blood pressure. We use a device manufactured here in Galway by Medtronic for the procedure which is carried out as a day case.
 
"The feedback from my patients has been very positive. For many it has transformed their lives. High blood pressure can lead to many serious diseases including heart failure, coronary disease and stroke. In fact, high blood pressure is the number one attributable cause of death!
 
The numbers of people suffering from high blood pressure is rising year on year and currently 50% of the Irish population aged over 50 years and 70% over the age of 70 suffer from high blood pressure. It is estimated that by 2020, 63% of the Irish population aged 45 or above or 1.2million people will have high blood pressure and this can be attributed to factors such as lifestyle, diet, exercise levels and genetics.
 
"I am so proud of the team here in Galway. We have demonstrated that we are innovators and early adopters of new technology and as a result we now have the knowledge base and experience to educate doctors from all corners of the world who in turn will be able to introduce this new form of treatment at their hospitals and to their patients. The work we are doing in GUH will improve the lives of not just the patients we treat, but thousands of patients all around the world.
 
"Our approach is very much focused on better outcomes for our patients and we will continue to research and undertake clinical trials in order to develop new treatments and technologies."
 
Photo details:
Dr Haytham Makki, Registrar with Dr Faisal Sharif, Consultant Cardiologist who will be training an international team of Doctors from around the world on a new treatment for high blood pressure called renal artery denervation on Friday 06 December in GUH. Photo taken in the Catheterization Laboratory at Galway University Hospitals.